VIRGINIA — Laura Collins, proprietor of Pep's Bake Shop, calls it a bittersweet decision her parents Joe and Bette Prebonich made to close the Iron Range mainstay, the Italian Bakery, that they have owned and operated more than 30 years.
In a recent interview at Pep's, Joe Prebonich said he has mixed emotions about retiring from the craft he has known and loved for decades. But it was time, say the Preboniches, in an era of big-box stores that take a toll on smaller hometown businesses, and the sad decline of the old-fashioned work ethic. Joe Prebonich is 75 and Bette 73. The good news is that daughter Laura at Pep's, where the Preboniches' granddaughter Allison Collins also works, produces similar products that were available at the Italian Bakery.
"The transition is difficult, but it will get better," Joe Prebonich said as he and Bette sat at the coffee counter in Pep's, so named by the Pepelnjaks, who formerly owned and operated the bakery. "Anytime Laura has an equipment breakdown, we get things fixed," he said, referring to his son Paul Prebonich and son-in-law Scott Collins. Paul Prebonich delivers products by truck to area restaurants, but with the closing of Italian Bakery, products will no longer be available in area grocery stores. Bette Prebonich does the bakery's bookkeeping. They had thought about maintaining both bakeries, but it was decided it would be too much for Laura Collins to maintain, and she agreed. Joe Prebonich said sadly it is difficult to find people who want to work — a dilemma faced by many business owners.
"I'm going to miss my customers, my potica people I talk to every year," Bette Prebonich said. Their potica, a Slavic walnut-filled pastry, was made famous by the late actress Francine York of Aurora. "People with Range ties love to talk about the Range. We have a lot of good people here."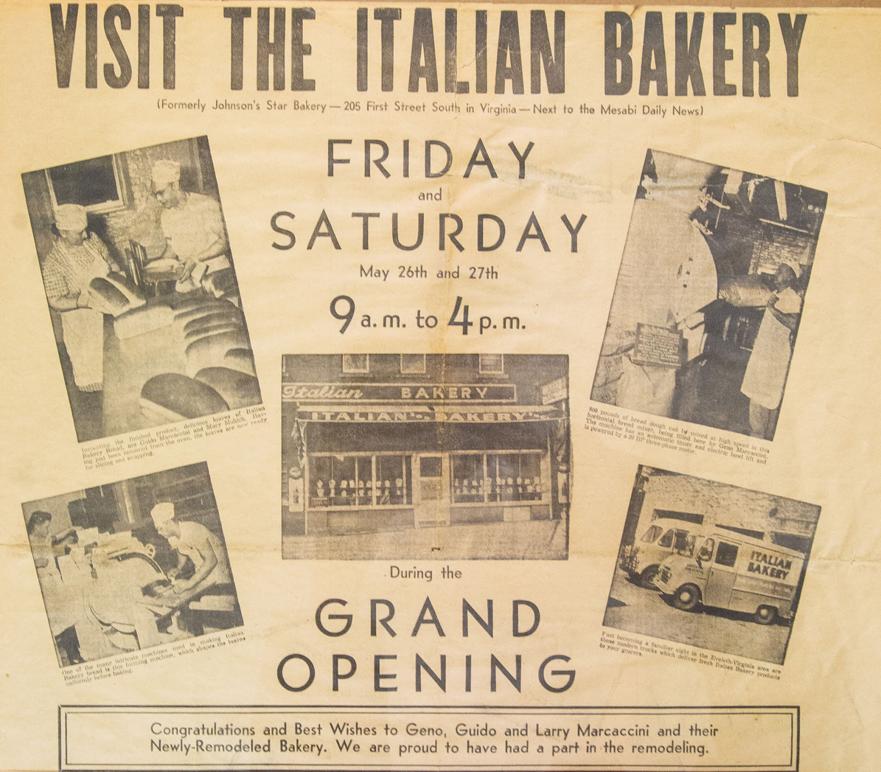 Joe Prebonich, an Eveleth native, went to college but said he didn't want to become a teacher or a miner — the baking business appealed to him. So he got a job working at the Italian Bakery for the Marcaccini brothers Geno and Guido. Eventually several years later he told the Marcaccinis he was interested in buying them out and an agreement was made.
The Italian Bakery tradition in Eveleth had its start with Italian bakers named Ventrucci, Pazzelli and Marcaccini. Later the Marcaccinis assumed the bakery operations, opening the bakery in Virginia at the former Johnson Star Bakery in 1960.
"I started at the bakery at 20 years old right after college. I just fell in love with the business," Joe Prebonich said in a 2015 story about the closing of the Eveleth bakery. That was a "very, very difficult decision for us," said Bette Prebonich in the 2015 story. It had been started in 1905.
The Preboniches have been proud of their personal service. Unfortunately, they said, the "profit margin kept shrinking."
Laura Collins said, "I really like working with my daughter. She has a lot more creative ideas." Allison Collins said, "I love working with my mom, and cake decorating. I love working with brides." Allison Collins, 27, started a Facebook page on Pep's.
As for people's reaction to the closing, Allison Collins said, "They were excited for my grandparents." And when visitors would stop by the the bakery, they wanted to see the wooden floor in the room where the baking was done. "That old building, they just love it." It was built more than a century ago.
Allison Collins said at too many places there are "no personal touches anymore." She's proud to say she learned to decorate cakes from her grandparents and her mother.