Ivanka Trump appeared in Duluth to highlight the president's Pledge to American Workers program as one of two stops in Minnesota on Monday.
Joined by U.S. Interior Secretary David Bernhard and Eighth District U.S. Rep. Pete Stauber, the president's daughter and special advisor toured Duluth Pack, an outdoor gear and bag maker located in the city's tourist center of Canal Park. Two executives for the company signed a commitment under the Pledge to American Workers to increase education and training programs.
"As so many people are experiencing tremendous vulnerability and fear, are thinking about the path forward ... I have no doubt," Ivanka Trump said. "The president built the strongest economy in this country's history and he will do it once again."
But outside the company's storefront was a round of protests that underscored the political climate and culture war between environmentalists and copper-nickel mining supporters that has raged for years, largely playing out in Duluth and on the Iron Range.
The Trump administration has reissued mineral leases to Twin Metals, a company looking to open an underground copper-nickel mine near the Boundary Waters Canoe Area Wilderness, that along with the proposed PolyMet open pit copper-nickel mine outside Hoyt Lakes, have received the full backing of Stauber.
Ivanka Trump and her husband, Jared Kushner, also rent a Washington, D.C. home owned by the family that controls Antofagasta, the Chilean mining company that owns Twin Metals.
When questioned about mining, according to the Star Tribune, Bernhard said: "We will not sacrifice clean air or clean water for economic development."
On Monday, Duluth Pack found itself in the middle of the environment-versus-mining debate as host to Ivanka Trump and the event.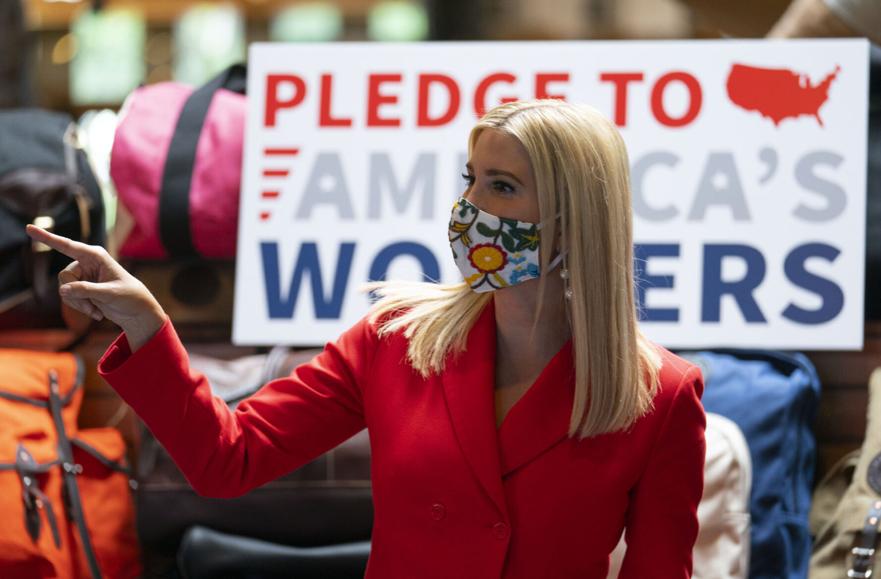 Protesters gathered outside and many more took to social media over the preceding days to express their disappointment in the company, with some vowing to stop shopping there over holding an event that they said ran counter to the environmental values of the company's customer base.
Those now opposing Duluth Pack cited its marketing as a wilderness company, but said the Monday visit was politicizing the business, a notion CEO Tom Sega dismissed to the Star Tribune, saying the company had one of its largest days of online sales Sunday after Ivanka Trump's visit was announced and added they have hosted politicians from both sides of the political aisle.
"This is not a political statement," Sega told the newspaper. "It doesn't matter what administration it is, we would welcome people who are supporting us — our company, and specifically and most importantly, our employees. This is a statement about our employees and how awesome they are."
On Twitter, the hashtags #goodbyeduluthpack and #boycottduluthpack were populated with Minnesotans and some from across the country vowing to take their money elsewhere.
Others eschewed the hashtags to promote other local businesses. Bryan Hansel, a photographer and chair of the Cook County DFL in Grand Marais was among those users, tweeting Monday: "If you are looking for portage packs and gear made in Minnesota by someone who is fighting to keep our water clean, get a Cooke Custom Sewing pack. As a note, Ivanka Trump rents from a Chilean billionaire who wants to sulfide mine in the BWCAW watershed."
Copper-nickel mining has been a particular lightning rod for boycotts, even on the Iron Range, where pro-mining groups notably forced the eviction of Bent Paddle, a microbrewery in Duluth, from all bars and liquor stores in the mining region.
Bent Paddle was among the companies, mostly based in Duluth, who joined the Downstream Business Coalition against PolyMet, an open pit copper-nickel mine proposed near Hoyt Lakes.
A smaller boycott arose last year of the Fortune Bay Casino and Resort, owned and operated by the Bois Forte Band of Chippewa, after the tribe signed onto a letter opposing the Twin Metals underground mine near the Boundary Waters.
The Star Tribune contributed to this story from Duluth.