IRON RANGE — Although the daughter of a mining engineer, "the United Way Lady," as she was then known, had never actually stepped foot on a mining property until she began working at a local nonprofit agency nearly 30 years ago.
Shelley Valentini, however — whose nickname still sometimes surfaces — was rather quickly acquainted with agglomerators, concentrators, and crushers after taking a job with the United Way of Northeastern Minnesota, where for a long time she was its one and only employee.
"My father passed away a few months before I started working for United Way, never knowing how much time I would spend at mining properties in my life," Valentini said recently, reflecting on 29 years with the charitable organization, 25 of which she served as executive director.
Her dad, who worked for Erie Mining Co., "would have been so tickled."
Valentini retired in July, after overseeing many changes at UWNEMN. She is currently working from home as an executive advisor through February, assisting with the transition as 16-year employee Erin Shay steps into the role as executive director.
The biggest change during her time with the UWNEMN was its evolution from a purely fundraising-focused organization to one that also incorporates community impact work — "before 'community impact' became a term," Valentini said.
The other major transformation was the need for a brand-new building to house not only the nonprofit's many community impact projects under one roof, but also the growing staff needed to support its expansive and varied work.
What hasn't changed is UWNEMN's partnership with area mines to accomplish its work of supporting nonprofit agencies and making a difference in the communities it serves.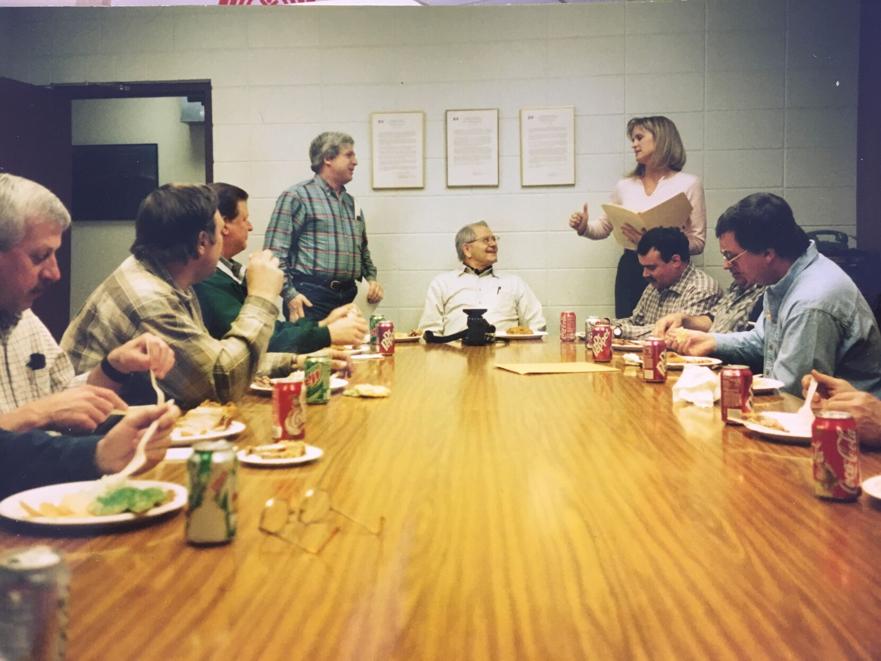 ****
Valentini's youngest son was about 9 years old when she decided to go back to work after years as a stay-at-home mom heavily involved in her three sons' youth activities.
The Hoyt Lakes native said Hibbing Taconite employee, Mike Kern, who remains in Hibtac's human resources department, notified her of the job opening. Valentini was originally hired in 1991 as the administrator and bookkeeper, at a time when the organization was raising $350,000 to $380,000 per year.
UWNEMN launched in 1966 to serve the needs of individuals and families on the Iron Range (from northern St. Louis County to eastern Itasca County), as well as Koochiching County. Previously, there had been multiple United Way organizations working in small communities competing for dollars from companies that drew employees from numerous towns.
Valentini said her boss, Jim Olson, "included me in on any meetings with volunteer groups at the various companies supporting United Way."
At that time, most of the funds raised came from miners.
Mining companies had a long history of support, she explained. For years, they had raised funds for United Way by sending volunteers from the mines to ask their fellow employees to give.
"Even though it was the majority of our funding, it was coming from a small percentage of mine employees," she noted. "I realized after stepping into the role of executive director that the only way to encourage more people to give was to talk to them face-to-face and meet them where they were. And I mean that literally.
"I asked to be allowed to go to the agglomerator, concentrator, crusher, the pit, etc., alongside volunteers," Valentini continued. "The purpose was to provide employees information direct from the source, allow them to ask questions, make any complaints they had and really listen to what they as donors wanted to support."
As an independent United Way making its own decisions locally, "we really wanted the donors to understand that this was 'their' United Way, and they could help shape who and what we were as an organization. The donors really liked this as it had never been done before," she recalled.
The effort kept Valentini hard at work.
"As I was the only employee for United Way at the time, I was suddenly on a roller coaster of getting myself from meeting to meeting, bouncing back and forth between locations," she remembered. "I carried different changes of clothes with me because I couldn't wear the same clothes I wore to a meeting with bank employees as I would with mine employees. I was always teased by volunteers about how I would come screeching in on two wheels just in time to make the meetings."
It was during these chaotic days that Valentini earned her moniker, "the United Way Lady."
As the endeavor evolved, the UWNEMN asked people who had received help from the United Way to share their stories.
Larry Dykers was one of those people.
"Sometimes one person can be a game changer for the work that we want to accomplish," Valentini said. Dykers, who was plant manager of Hibbing Taconite in the 1990s, "had to use a United Way organization in his life, and that made him a believer in our work."
Dykers became a UWNEMN board member, and "he saw the challenges I faced as a one-person shop," Valentini said. "He became the manager who gave us our first 'loaned employee,' Ray Erspamer."
Erspamer, a Hibtac employee, "had a personal story to tell about how United Way helped his family, and Larry paid Ray's wages while he worked for the United Way during the fall campaign," Valentini said."Larry was also the first manager to implement incentives for employee giving, allowed access in the workplace to talk to employees, etc. — all with astounding success. He opened the doors to the fundraising we wanted to do, and other companies followed his lead."
Valentini said that while the bulk of funds were collected from mining company employees, "we utilized the lessons we learned from our mine campaigns and expanded this similar reach to any and all companies that would allow us to come in and talk to their employees."
The outreach created relationships among the UWNEMN and the programs and people served, as well as the volunteers, donors, and companies supporting United Way's work.
In 2004, Valentini hired Shay, who over the years has worked in all facets at the organization including marketing, event planning, and on the annual campaign.
The duo pivoted UWNEMN's focus to community impact.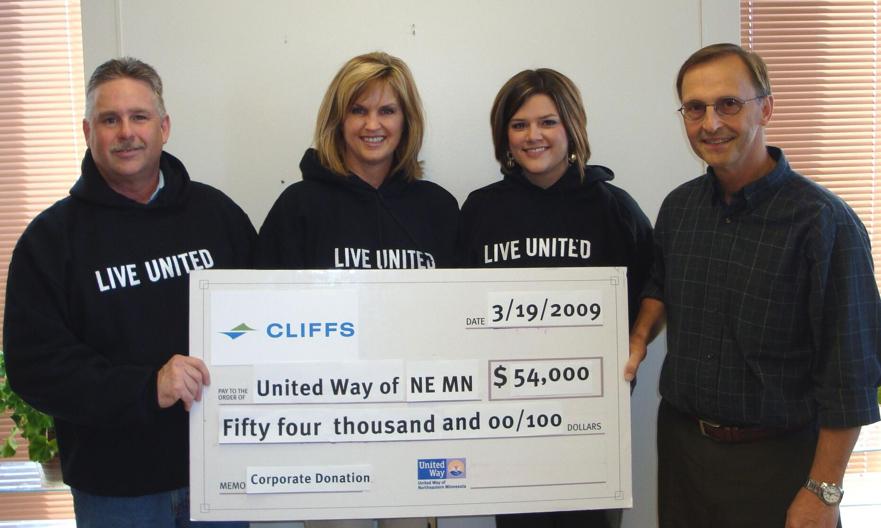 Up until then, "United Way's major responsibility was to raise funds to pass on to other nonprofits through a fund distribution process," Valentini explained. "Changing to a community impact organization meant that when our organization saw a need in the community that wasn't being met, we created programming to meet the need and ran the program ourselves."
The very first time UWNEMN stepped beyond the the "fundraising only" model was 15 years ago, "when meth came to the forefront as a huge challenge within our community," Valentini said. "United Way lead the initiative to provide education sessions to the community at large."
Her husband, who worked in the court system, observed the positive impact of the work, "which really validated the time and effort put into the initiative."
Another early community impact project "that cemented our path to change" initiated following a conversation Valentini had one day with the school nurse at Mesabi East, Shelly Whiting.
"I was at her office on a Monday morning, and we kept having interruptions from children who were coming to her not feeling well," Valentini recalled. "She finally said to me, 'You wouldn't believe the number of children I see on Monday mornings who aren't feeling well. I now know to ask them what they've had to eat over the weekend, and you would be shocked at the number of children who don't have enough.'"
Whiting wondered if United Way could do anything to assist.
"That day was the birth of our Buddy Backpack program," Valentini said.
Buddy Backpack supplies nutritious, kid-friendly food kits to food-insecure children each weekend during the school year. The program currently serves more than 900 children on the Iron Range, and 185 in Koochiching County.
Shay said her greatest accomplishment thus far has been "working with Shelley to turn our organization into a community impact-focused United Way and not just a pass-through fundraiser."
UWNEMN has grown to support a number of community impact programs, including Imagination Library, which provides free books to children regardless of family income from birth to age 5 to promote early childhood education; Comforts of Home, which distributes household goods to families in need; United for Veterans, designed to address gaps in services for local veterans; and Smiles Across America, a preventive dental care program that provides teeth cleaning, oral treatments, and nutritional education to children who are under- or uninsured.
Among its newest programs is Meet Up and Chow Down, which furnishes healthy lunches to children during the summertime.
"It is my hope to evolve our organization even more to focus on creating and supporting programming that offers longterm solutions," Shay said.
****
Like Valentini, Shay has mining in her blood.
"I come from a long line of iron miners," she said. Her grandfathers worked in the iron ore and copper mines of the Iron Range and Michigan. "My dad worked in the mines, starting at Erie Mining Co., which then turned to LTV Steel."
Her father finished his career at Northshore Mine in Babbitt when LTV closed in 2000, putting in a total of 42 years as a miner.
After graduating from the College of St. Scholastica in Duluth, Shay obtained a job at a local advertising agency, but was laid off due to the economic downtown of the county's recession in the early-2000s.
"Growing up in a mining family had prepared me in an odd way for this situation," she said. "Like so many families in our region, we'd learned to prepare for and weather layoffs throughout the years."
The loss of her job, however, was "fortuitous," Shay said, "because shortly thereafter, I received a call from my previous summer intern director who suggested I apply at UWNEMN."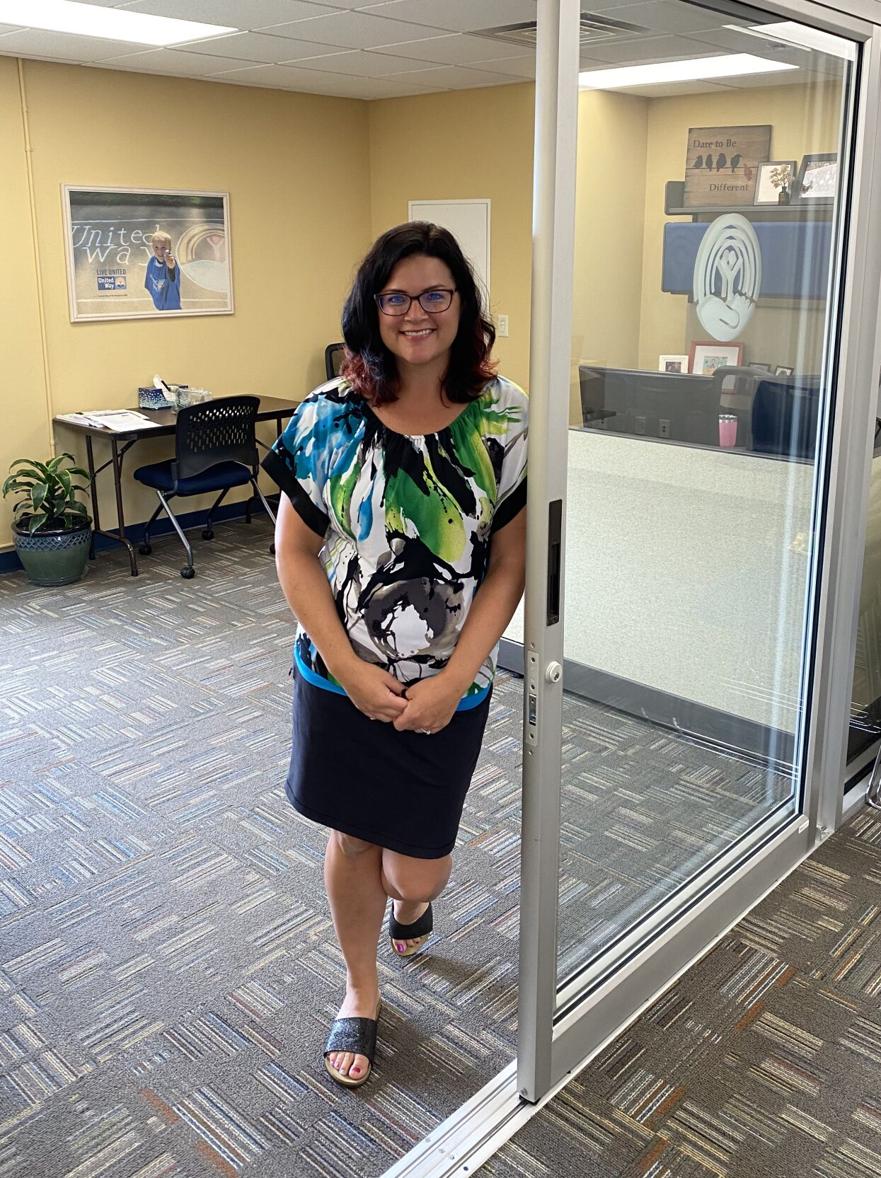 Shay said asking for donations was "not my thing" initially. But "it didn't take long for me to realize there is so much more to United Way than fundraising. After seeing all of the local nonprofits that received funding through our work and positive changes United Way was creating in our region, I was hooked."
While Shay said she knows she is "stepping into big shoes," the new executive director said she is grateful for the UWNEMN Board of Directors' trust in her —and to Valentini for years of mentorship.
"What I've learned in my United Way career with Shelley is there is always a new challenge ahead, and our roles will constantly evolve," Shay said.
Aside from a new concentration on community impact, Valentini said she considers moving into a new location and raising funds for that new space as her other major accomplishment.
"Never in my wildest dreams would I have thought when I started working for United Way that we would ever need the space or have the capacity to accomplish the work we are now doing."
During the agency's 40th anniversary in 2006, the UWNEMN's annual campaign topped the $1 million mark for the first time.
A little over a decade later, the organization was tasked with raising another $1 million "over and above our normal campaign" for its new home in the 11,500-square-foot former Minnesota Power service center in Chisholm's Industrial Park.
In-kind support from Minnesota Power, its CEO Al Hodnik, and a cash contribution from Richard "Dick" Enrico — a Chisholm native and well-known former Minnesota business owner and president of 2nd Wind Exercise Equipment — additionally helped make the purchase possible.
The building was renovated and UWNEMN moved from its small office space on Chisholm's main street to the new location in 2018.
"Our new building is a huge asset in how we do our work and how the community can see our work firsthand," Shay said. "On any given day we can be packing Buddy Backpacks in one part of the building, organizing books for little free libraries in another, and sending off pillows and towels to a family in need in another."
Shay said the local United Way still struggles sometimes to gain the public's understanding of the impact their donations have in the community. "When you donate to our local United Way, your dollars are staying local, but until you come to our building and see the meals being distributed, books being mailed, dental patients coming through, it can be difficult to fully understand," she added.
Shay said one of her goals is to "start having fresh conversations with our current and prospective donors, along with our corporate leaders" to better convey the work the organization accomplishes.
"We are currently updating our mission and vision for the organization and have just launched a newly revised strategic plan," she said.
But the "cornerstone of our organization" remains as strong as ever.
"The men and women who work in our mining industry" have supported the UWNEMN at its core, Shay said. "We absolutely would not be where we are today — a staff of six operating multiple programs and supporting dozens of local nonprofits in this great community space — without the donations and volunteers from industry workers and companies.
"And when I say industry, I mean the whole industry. The mines and the businesses that support them have been generous with their time and financial support over the years."
Of course, Shay noted, "this has ebbed and flowed with the industry. … Just like in my family all those years, our organization has learned to prepare for those ebbs and flows of the mines. When the mines are doing well, the fundraising landscape is vastly different than it is on difficult years. And like Shelley has often said, 'needs are always highest when resources are the lowest.'"
There have been many times when people who normally donate to the UWNEMN wind up needing its support.
"But one of the great things about the people of the Iron Range is the way they pay it forward. Most people who find themselves in that situation turn around and show even more support to our organization when they're back on their feet so we are able to help even more people in the future," Shay said.
However, this year, the COVID-19 pandemic has made the organization's work especially challenging.
"We've pivoted to do more digital outreach this year, and our mines have been leaders on that front," Shay said. "They've added text campaigns, roll-over campaigns, and worked with us to create mine-specific pledge forms, posters, etc. We miss doing meetings in person — that's something you can never replace. But we are grateful to the businesses that are hanging in there with us this year and are willing to try absolutely everything they can to make sure we continue to not only maintain throughout the year but hopefully grow, because the need for our programs and agencies is growing."
****
Valentini said she looks forward to spending more time with her children and grandchildren in retirement. And she is confident the UWNEMN is being left in good, capable hands.
"I have worked alongside Erin for many years and know that she will excel in this new role and will continue the impactful work of UWNEMN, putting her own stamp and creativity on it as she always has," Valentini said.
In the meantime, Valentini continues to assist with the transition.
"It was always important to me to keep administrative costs low for our organization so the majority of donations could go directly to the programs and services impacting people's lives in our communities," she said. "That means every staff person wears multiple hats and takes on multiple roles. Because Erin is moving into the role of executive director, it means duties have to transition all the way through the organization."
Valentini added that she surely "will be connected to the community in some way for the rest of my life." But, for now, "I am so happy to leave the organization in the hands of Erin Shay, who will make it thrive."
And, "without a doubt I will miss the relationships with volunteers, donors, co-workers and board members who become like family. These are all people who really care, want to make a difference, and work hard to do so. I have been so blessed to work in a career where you can see the positive impact and change in individuals and families."
Valentini will likely always be known by some as "the United Way Lady."
Occasionally, the former executive director said she will be in a local store when
"someone who recognizes me has 'the United Way Lady' will share with me a story about how a certain program has helped a family member."
It remains a gratifying experience, she said. "They are so thankful."
The United Way Lady's many years at UWNEMN "has been fulfilling" and, most of all, she said, "has had meaning."