The days have been numbered for the old Northland Office building in downtown Virginia for quite some time. Now entering the final stages of deconstruction, the offices that were once housed there have moved across the street to a brand-new, zero energy building. The Virginia Government Services Building, as it's currently called, was built by St. Louis County. The design team was led by a group of architects, designers, engineers, construction workers, artists, employees and the St. Louis County Property Management Department all working collaboratively to create a new space to bring several county entities under one roof.
"We started the process of consolidating about 22 years ago," explained St. Louis County Property Management Director Tony Mancuso. "The government moves slow," he chuckled as he explained that the new building in Virginia is the last construction project of this consolidation process. "At one point, we had five locations in Duluth, three in Hibbing and a couple Virginia locations," Mancuso said. And of all the construction projects that he's been a part of through all the years, it's easy to tell this new building holds a special place in his heart.
The building, located at 201 South Third Avenue West in Virginia, took over a year to build and came with a $19 million price tag. Veteran services, county extension services, environmental services, county mine inspectors, public health and human services and their associated divisions and the county auditor and assessor are all now housed under one roof. The St. Louis County employees who work in all of these departments spent much of September moving to their new digs and settling in.
There's no basement — it has a geothermal slab, the windows are super insulated, there are 330 Watts of solar panels on the roof and the entire south wall is a solar wall that absorbs heat from the sun to heat the building. "It's a near-net zero building," Mancuso said. "Meaning it hardly uses any utilities. There are sensors everywhere and so far it's performing really well."
It seems only natural, then, that a building that is so considerate of the resources it will gobble up over its expected 70-year lifetime invites some natural elements inside. Upon entering, your eyes will be treated to visual delights from every angle.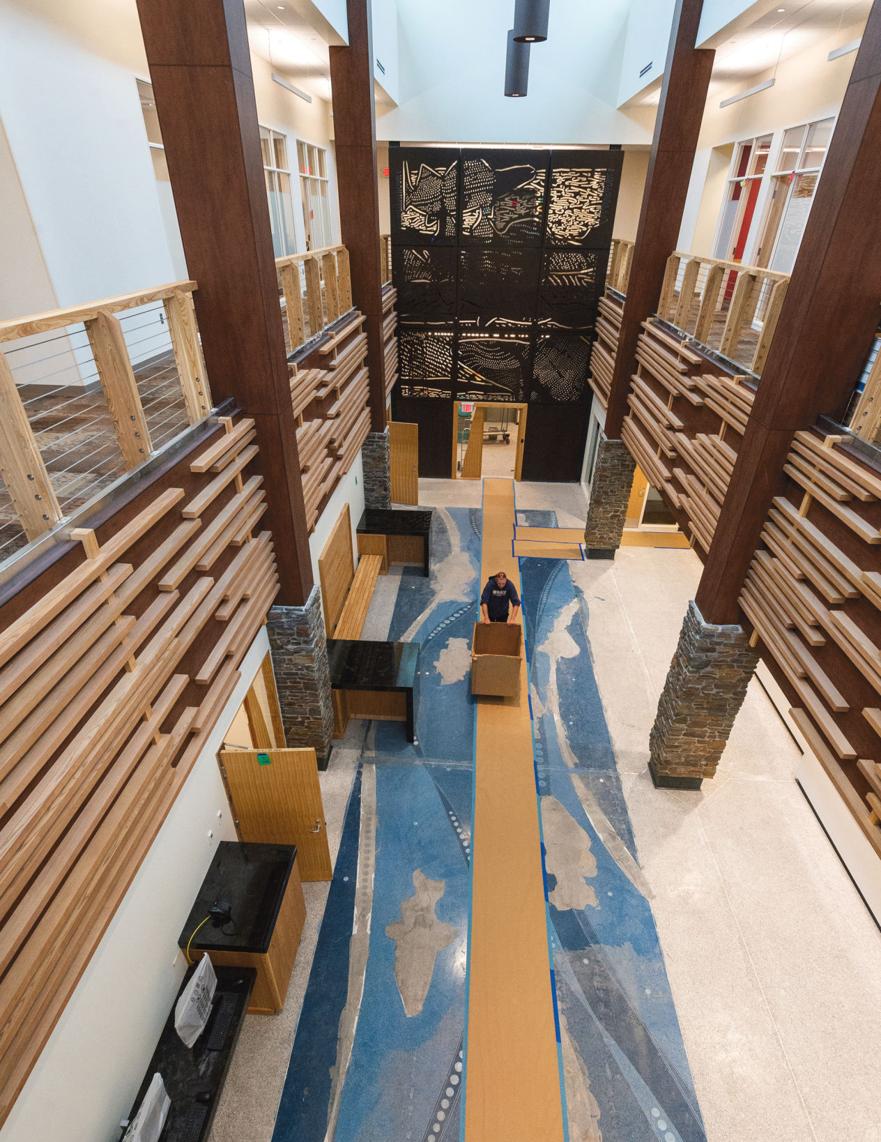 "We really wanted to include elements of mining and logging—our natural resources—and tourism," Mancuso said. He continued, "the county board approved the project budget to use up to 1% of the budget for art. Rather than building a statue or painting a wall, we wanted to incorporate art and make it more functional." Julie Spiering, Principal and Director of Interior Design and part owner of DSGW Architects added, "The art stems from a conversation we had early on in the process in that the County really wanted to reflect the local character and environment of the area. We took the public art component and talent of the artists selected and apply it to the finish of the building for greater impact."
The team relied on Forecast Public Art out of St. Paul to guide them along the process of selecting the artists who created the work inside the building.
"We selected four artists for this project," Spiering stated. "Ann Klefstad and Paul LaJeunesse's work will be installed next summer. Ann is creating a sculpture and Paul is developing a mural." Mancuso interjected, "The building season is coming to an end. We'll probably have a gravel lot outside for the winter and next summer, we'll be able to blacktop and do our landscaping. We'll install a statue and a mural depicting our regional and cultural heritage."
Visitors to the building don't have to wait until summer to enjoy the work of Leah Yellowbird and Aaron Squadroni.
Yellowbird's work swims across the floor in the main lobby and front porch. Here, you'll find a variety of massive fish — all local species — embedded in a terrazzo river. Deep shades of blue create a vibrant backdrop for the many shades of green, gold and red that comprise the fishes bodies.
Yellowbird's work can be found in public and private collections throughout Minnesota, including the library in Grand Rapids, MN and on campus at Bemidji State University in Bemidji, MN. She's a painter, beadwork artist and is energized by trying new techniques and materials.
"Leah was really receptive to working within the design constraints that come with working with terrazzo," Spiering complimented. She explained, "It's like a paint by number, each color is poured individually and created from aggregate materials like rock and glass mixed with a base color. It's a very fluid process."
"It's very conservative," admitted Yellowbird, of the finished work. "I'm not a very conservative painter. I usually paint with every color in the box and it was a stretch for me not to use all the colors."
Yellowbird feels it was a bold move to invite an Anishinaabe artist to create the floor design. "We were here long before the immigrants that built these towns, and I think it's generous for the county to incorporate what was here before. In this particular piece, I feel that I used a lot of Scandinavian shades yet still incorporated an Ojibwe feel into it."
Above, an expansive sheet of metal towers over the main lobby. It's cut with an abstract design that immediately conjures up feelings of standing on a berm at any of the local mines in the area. Round and angular shapes form a pattern that's reminiscent of the layers of rock and sediment that remain after mining excavation. It's the work of Squadroni, an Iron Range Artist and designer. His work often uses, or is inspired by, the landscape of the region. On his website, he states that his work often explores the "visible and unseen tensions in the mining landscape." His work can be found in Grand Rapids, Coleraine, Chisholm and Virginia, MN.
Exposed steel beams that ascend skyward are anchored and wrapped by local stone quarried from Laurentian Stone and Monument in Biwabik.
And there's more. The walls feature locally sourced ash paneling and the doors are made of locally sourced ash and yellow birch with live edges — the rough edge of the wood isn't planed down, which does a lot to really bring the outdoors in. The countertops, made of polished taconite, were inspired by similar ones found at the Range Regional Airport in Hibbing.
"The county board always promotes the use of local materials," Mancuso said. "Our buying tenant is to always buy local as much as possible. It gives our friends and neighbors that we work with more ownership in the projects and as far as I'm concerned, it's a win-win-win," he added.
"This is the most efficient building that I've ever been involved with," Spiering said. "Our focus was on efficiency and making sure we use materials that are durable for the long haul." She continued, "It was also important for us to create a quality space for the staff who work in the building. There's lots of natural light and you'll find more of Squadroni's work etched in glass in the staff-only stairwell. It's friendly and welcoming and one of my most favorite spaces in the building."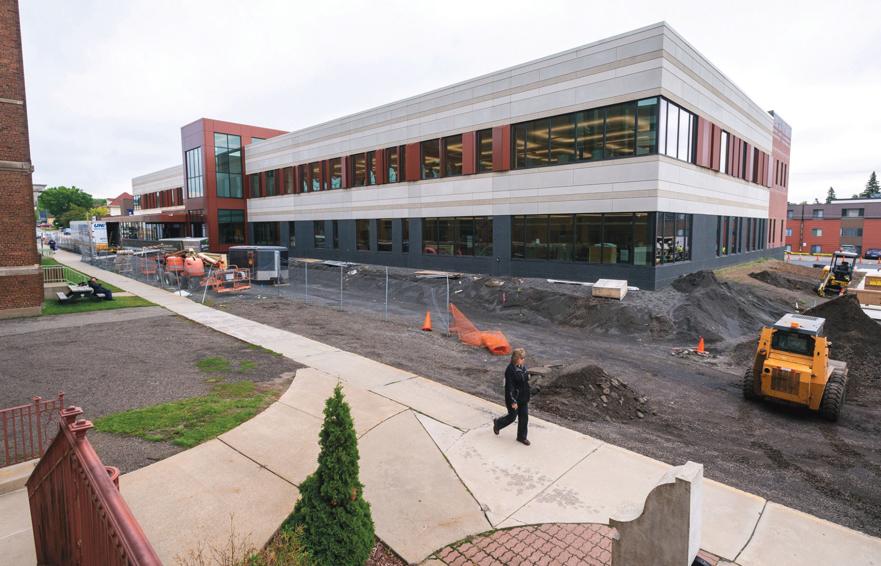 Even the solar panels on the roof are locally-sourced. "They were manufactured right here in Mountain Iron," Mancuso said. According to Minnesota Public Radio, Heilene is the state's only solar panel factory and the first to open in the United States in 2018.
Rock solid
The Range Regional Airport terminal, which was unveiled their in December 2015, was the first building to utilize the polished taconite countertops in a commercial setting.
Katie Hildenbrand, a certified interior designer and principal at Architectural Resources, Inc. recalled that they sourced the countertops from Laurentian Monument, Granite and Stone in Virginia. "Previous to that, they had dabbled in commercial installations, but the airport was their largest installation at the time," she said. Similar to the Virginia county building, it was the intention of Shaun Germolus, executive director of Range Regional Airport and the Chisholm/Hibbing Airport Authority to use as many locally sourced materials as possible.
"From the moment people stepped off the plane, Shaun really wanted to use the materials to tell the story of the nature around us, so we left steel beams exposed and created a terrazzo floor design with colors of rust to represent the taconite in the mines, blue for the water and white for the snow and ice." Hildenbrand said. "It really tells the story of the Range," she added.
The terminal also features stack stone along internal and external walls, along with timbers reclaimed and repurposed from the original terminal.
"It seems fairly simple using raw product as a building material, but in a commercial building it was more of a challenge," Hildenbrand said. "We had to make sure that it would be functional and long-lasting," she added. And four years later, she's pleased with the results, "It still looks great," she said.
Back in Virginia, Mancuso's very happy with the final result. "It's kinda like camping, you know, you leave things a little better than when you found them. We now have a beautiful safe and secure regional hub for our staff to work in."
With so many hands involved in making this happen, it's difficult to give credit to any one individual, company or team, but all who had a hand in work can be proud of the final product.