The story of Iron Range mining supporters and environmental opponents is not a new one, rather a tale of the last several years, both emboldened, defeated and galvanized by the changing political winds, court rulings and rallies.
It's a tug of war that is seemingly endless. Projects like PolyMet, a proposed copper-nickel mine near Hoyt Lakes, have waged on going on 16 years now. It is mired in ongoing litigation and further permit review at state and federal levels, and will likely — if the Minnesota Supreme Court takes up an appeal on three permits — be in the middle of a precedent-setting case on the environmental review process that will have ripple effects across the mining industry and possibly further.
No pressure at all.
While PolyMet grapples with forging a path, Twin Metals Minnesota is following the trail, mindful of the bruising its predecessor has endured to get a project this far along — fully-permitted (at one point, without litigation) and investments away from breaking ground.
Twin Metals is far from reaching the same point. The company submitted its mine plan of operation and other documents to formally ignite state and federal environmental reviews, which on mundane mining projects could last up to two years.
If this project has proven anything in the years before it was even proposed, it will be anything but uneventful from here on out. Already it has been subject to two presidential actions, sparked fierce public hearings, trips to Washington, D.C. by both sides of the issues and may well be the defining issue that reshapes political lines in Minnesota.
Those impassioned sides were inflamed again this year as a Twin Cities congresswoman introduced a bill that would ban copper-nickel mining in a portion of the Superior National Forest near the Boundary Waters Canoe Area Wilderness. A bill that would stop the Twin Metals in its tracks and stop exploration by at least two other companies.
"She is not trying to cripple our way of life," said Minnesota State Rep. Dave Lislegard, DFL-Aurora, during a forum on the bill in D.C., addressing lead author U.S. Rep. Betty McCollum. "She's trying to kill it."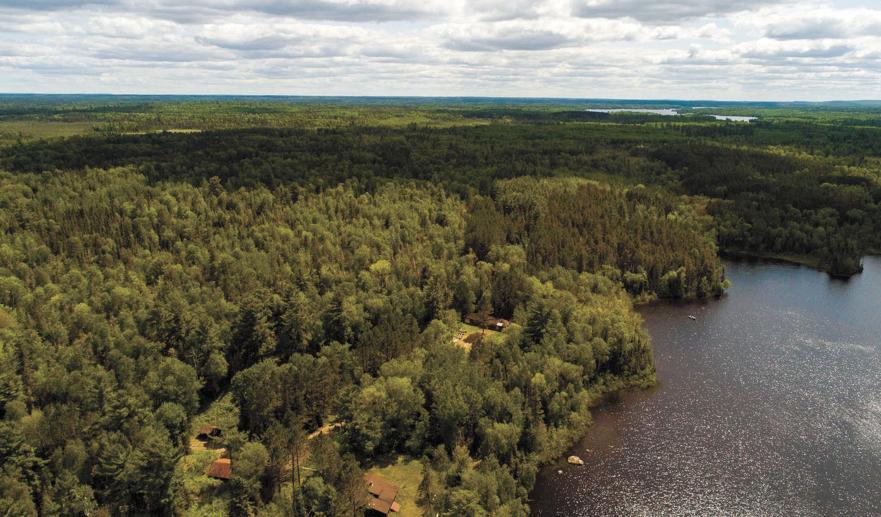 National supply in a national treasure
Twin Metals Minnesota was founded in 2010 when Duluth Metals and Chilean mining giant Antofagasta partnered and created the company, acquiring Franconia Minerals more than a year later to increase mineral and land holdings.
It was known for decades that this portion of the Duluth Complex held a collection of precious minerals that could make a mining project viable for the company. It was also known that those minerals sat near the Boundary Waters Canoe Area Wilderness in the Rainy River Watershed in Ely.
By 2013, the company opened its core library in Ely and Antofagasta became the sole owner of the Twin Metals in 2015, buying out Duluth Metals and setting the project — a vast underground mine — on the path it is on today.
In 1976, Friends of the Boundary Waters Wilderness started with the goal of protecting the area. Copper-nickel mining wasn't realistically on the radar, though the area was inhabited by logging companies. They helped score one of the biggest victories at the center of today's mining fight: passage of the Boundary Waters Canoe Area Wilderness Act of 1978, three years after its introduction by Minnesota's Eighth District U.S. Jim Oberstar, a Democrat, that placed restrictions on logging, mining, and the use of motorized vehicles in the BWCA.
Signed by President Jimmy Carter, the bill also drew the support of a man that copper-nickel supporters would come to know as one of their fierce advocates and successor to Oberstar in the Eighth District: then-Minnesota's Sixth District U.S. Rep. Rick Nolan.
"We can have both," he said in 2017, referencing the BWCA and mining projects coexisting. "One without the other is probably nothing."
As Twin Metals progressed on studying the core samples and preparing the project for a formal proposal, a more targeted group against mining formed in Ely — The Campaign to Save the Boundary Waters, which would launch a well-funded localized opposition that would later draw in a former regulator.
Their direct mission: "creating a national movement to protect the clean water, clean air and forest landscape of the Boundary Waters Canoe Area Wilderness and its watershed from toxic pollution caused by mining copper, nickel and other metals from sulfide-bearing ore," according to the group's website.
Twin Metals officials have said the project, one of most technological mines in the U.S., can — as Nolan said — protect the BWCA and harvest the minerals in the region. Those minerals are becoming important too, they said, as technology and green economies come into focus.
The Duluth Complex, according to the company, 34 percent of the nation's copper supply, 88 percent of its cobalt, 99 percent of its nickel and more than half of reserves of other precious metals.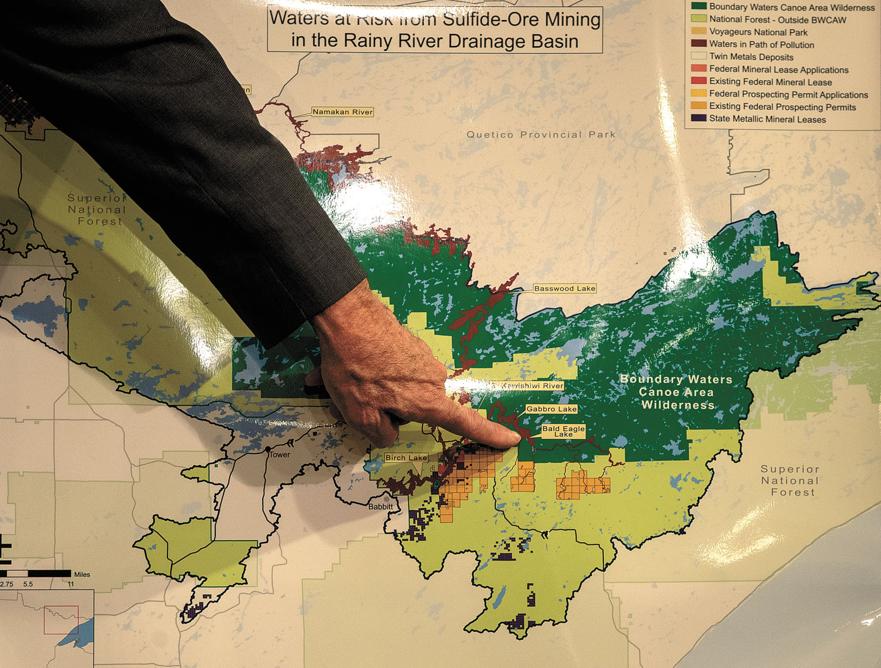 Tug of war over land and leases
In the waning days of President Barack Obama's administration in 2017, he issued an order that would upend the efforts of Twin Metals, and incite the rhetorical flames of mining and its opponents.
First, the U.S. Forest Service and Bureau of Land Management denied federal mineral leases to the company, setting up the president's move to have the USFS file for a two-year moratorium on new mining near the BWCA, proposing to close more than 234,000 acres in Superior National Forest to new mining projects, with a review process attached to inform the Interior secretary on whether or not the timeout should extend to 20 years.
Politically, it set a rift within the Democratic party that spilled over publicly later that month when Nolan and Fourth District U.S. Rep. Betty McCollum traded barbs over mining. McCollum has been a staunch opponent of copper-nickel mining in Minnesota.
A contingent of Iron Rangers traveled to Washington to testify against the withdrawal in March 2017, and in September 2018, months after President Donald Trump rallied in Duluth for current Eight District U.S. Rep. Pete Stauber, a Republican, the president canceled the land withdrawal.
The review period was set to expire at the end of the 2018 year.
"It's our duty as responsible stewards of our environment to maintain and protect our natural resources," said U.S. Secretary of Agriculture Sonny Perdue at the time. "At the same time, we must put our national forests to work for the taxpayers to support local economies and create jobs."
The battle that has waged since the Trump administration's decision, now over the release of what the Obama-issued study found before it was canceled. Environmental groups have called for the release of the 60-page report, especially in light of Twin Metals proposing a project, to get a clear picture of mining near the Boundary Waters for state and federal regulators.They said the project's review should be considered incomplete without it.
In December 2019, McCollum sought a detailed State Department assessment of water pollution risks that could contaminate water in Canada as well as the U.S, saying it could violate a 1909 treaty that bound both countries not to pollute waters along their shared border.
On Feb. 21 this year, McCollum said the State Department gave her an eight-paragraph statement that would "be excellent for a grade school-level book report, but as a report to Congress it is an embarrassingly inadequate document."
A copy of the report was not made public and McCollum called on Canadian leaders to pressure the Trump administration to release it.
Mining supporters have been relatively quiet on the release of the Obama era study, saying the environmental review process in place at state and federal levels will answer the questions about whether mining near the BWCA can be done safely.
Opposition hires a regulator
As the administration of new Minnesota Gov. Tim Walz came into focus, he moved on from former Department of Natural Resources Commissioner Tom Landwehr. In March 2019, Landwehr sent shockwaves through the mining communities when he joined Save the Boundary Waters as its executive director.
Walz's predecessor, Gov. Mark Dayton, was an opponent of Twin Metals but an avid supporter of PolyMet. And it was a Landwehr-led DNR that fully-permitted the state's first-ever copper-nickel mine proposal.
Now, he was on the front lines against Twin Metals.
As he told MinnPost after his hiring was announced, state regulatory standards were adequate — for PolyMet — but it came down to location and Twin Metals' proximity to the Boundary Waters.
"State standards are applied everywhere," he said. "What we're saying is the state standards don't work here in this spot. In this spot, this location, state standards simply don't work. They were never developed to anticipate being on the edge or the watershed of a wilderness area."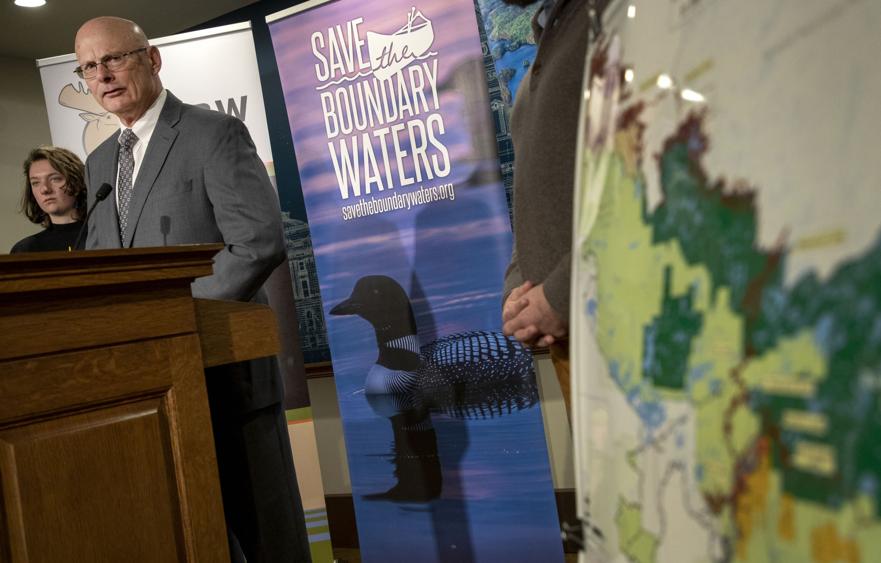 On the eve of the Twin Metals unveiling its mine plan, Landwehr led a group of Minnesota environmentalists in the Minnesota Capitol, urging Walz to stop the proposed copper-nickel mine.
"Please stop this project right now," he said at a news conference. "It was terminated once before. It should never have been resurrected. The Trump administration has corrupted the federal environmental review process and jammed the Twin Metals project into a state process that was never intended to protect pristine locations like the Boundary Waters."
DNR officials said prior to the mine plan release that they would conduct an independent environmental review from their federal counterparts, citing concerns with a Trump administration executive order, as well as its desire to perform a review without other looming federal-specific aspects, including mineral leases.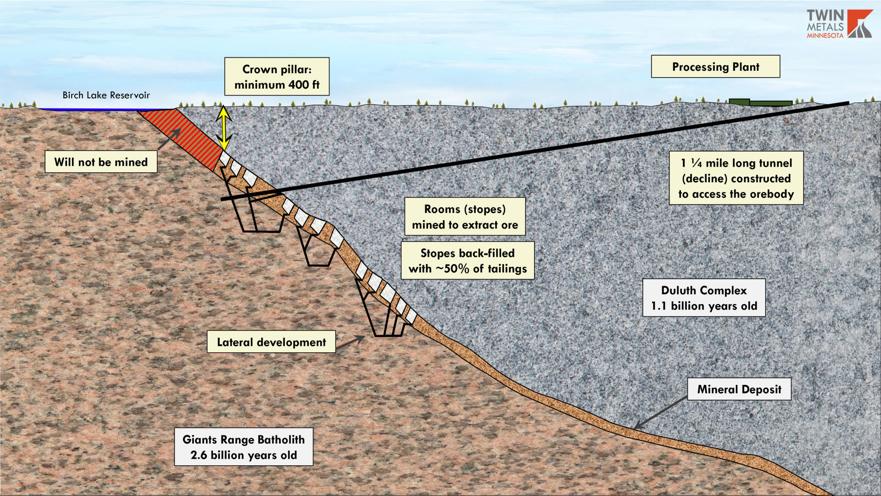 Twin Metals submits a plan
In December 2019, about a week before Christmas, Twin Metals officially submitted its proposal to state and federal regulators for an underground copper-nickel mine near the BWCA, triggering what is expected to be years of environmental reviews, public input and fierce legal and rhetorical battles over the project.
Just how long the proposal-to-permitting process will take is unclear, and company officials declined to speculate on the number of years ahead. The project is expected to face a more ferocious battle and extended timeline due to its proximity to the BWCA. And like its predecessor in PolyMet, Twin Metals also runs into the possibility of major project changes, which could require a new plan to be submitted.
"We anticipate and expect to meet and exceed state and federal regulations," said Dean DeBeltz, director of operations and safety for Twin Metals, adding the company is looking forward to improving the project as needed through public input and analysis.
Barb Naramore, deputy commissioner of the Minnesota DNR, said the agency expects the first phase to take up to two years based on other complex project timelines but did not have an exact timeline for the overall process.
"It takes as long as it takes to do it right," she told the media during a conference call.
The submission ended about a year of speculation of when Twin Metals would be submit a plan, and what that would look like. In the end, the company made some concessions to environmental groups, including the proposed use of a dry-stack tailings method, the first of its kind on the Iron Range.
In the proposal, Twin Metals showed a number of known and previously undisclosed aspects of the project, including the company's plans to remove sulfides from ore-bearing rock and bury waste in old parts of the mine to prevent exposure. After processing, the company plans to bring back about half of the sandy tailings to the mine and cemented as backfill. The rest would be stored above ground in a dry stack. Company officials say the planned steps would prevent the production of acid rock drainage.
In the proposal, Twin Metals also revealed it will not mine directly under the Birch Lake reservoir.
Twin Metals plans to use a targeted mining method that it says will reduce the amount of waste rock produced. The technique can reach minerals from 400 feet underground and potentially down to 5,000 feet below the surface, with two side-by-side decline ramps to deliver ore to the surface with a conveyor belt.
According to the proposal, the crown pillar at the project site will be about 400 feet thick and made up of "stable solid rock between the surface and uppermost ceiling" of the mine. Twin Metals said 80 percent of mining will occur below 1,500 feet and 40 percent below 2,700 feet.
The structure would be supported by unmined rock, set between the crown pillar and open spaces called stopes.
"With our understanding of the strength of the rock above the mine, and the method of using pillars, backfill and stop roof support, no measurable subsidence is anticipated at the TMM Project site," the company said in a press packet.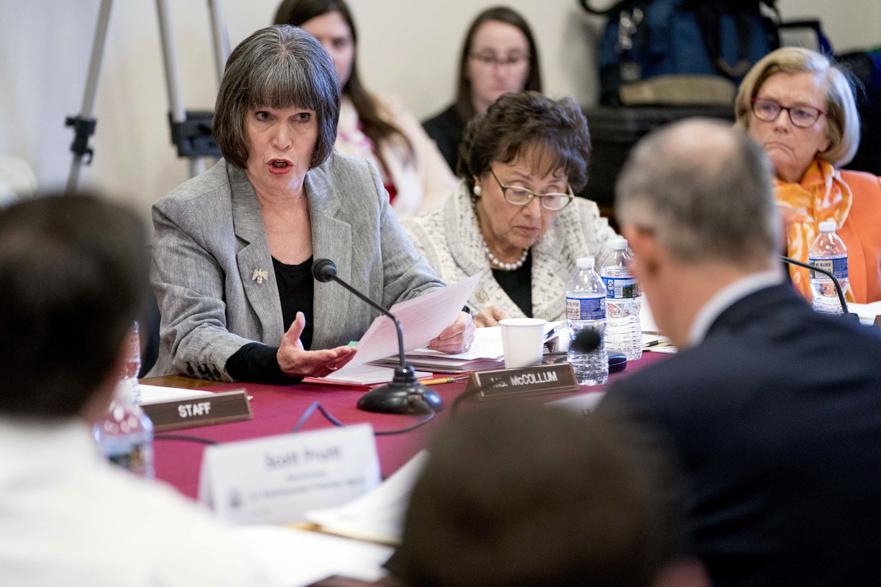 A new bill opens an old wound
Last month, McCollum introduced a bill that would not only cripple Twin Metals if passed, but directly impact exploratory efforts of Teck and Encampment Minerals as they study mineral deposits near the proposed underground project.
The bill, H.R. 5598, would permanently ban copper, nickel and precious metals mining across more than 200,000 acres of the Superior National Forest in northeastern Minnesota, and would forbid new mining operations within the watershed of the BWCA.
"This bill establishes federal, permanent protections for this vulnerable and fragile ecosystem to ensure it is not damaged and polluted from sulfide-ore copper mining," McCollum said in introducing the legislation.
The proposal would not affect PolyMet, which is in the watershed of the St. Louis River, which flows into Lake Superior. Nor would it limit taconite, or iron ore, mining anywhere in Minnesota.
The Iron Range and its mining supporters were enraged.
In early February, seven people representing the Range, its unions and mining industry traveled to Washington for a U.S. House Committee on Natural Resources hearing on the bill.
H.R. 5598 was co-sponsored by 32 other representatives, including Republicans Francis Rooney of Florida, Fred Upton of Michigan, and Minnesota Reps. Dean Phillips and Ilhan Omar.
McCollum said during the hearing that the Boundary Waters are too "unique and fragile" to have a copper-nickel mining project near it, citing potential damage to the wilderness area, the Rainy River Watershed, Voyageurs National Park and waters in Canada.
She said in her five-minute testimony to the committee, which was available through livestream, that the bill doesn't target the proposed Twin Metals Minnesota underground mine near Ely, but dozens more prospecting requests near the watershed.
"One mistake. One failure. One flaw, means an environmental disaster for this pristine and highly-sensitive wilderness ecosystem could happen," McCollum said. "That would mean the death of this federally-protected wilderness."
She was followed by Republican Eighth District Rep. Pete Stauber, who was joined at the hearing by the Range contingent consisting of: Democratic House 6B State Rep. Dave Lislegard, Jobs for Minnesotans Chair Nancy Norr, United Brotherhood of Carpenters representative Kyle Makarios, IUOE Local 49 representative Jason George, Mining Minnesota Executive Director Frank Ongaro and Twin Metals Chief Regulatory Officer Julie Padilla.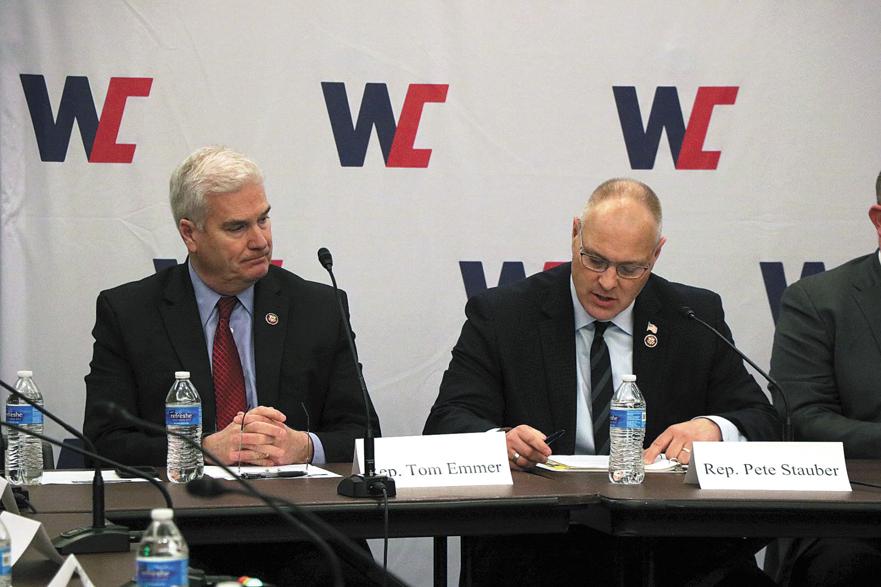 Stauber invoked former Democratic Rep. Jim Oberstar, who held the Eighth District seat for more than three decades, who urged former President Jimmy Carter not to sacrifice the "livelihoods, lifestyles and legitimate desires," over outside interests, when speaking about the Boundary Waters.
He extolled the potential economic benefit of copper-nickel mining for the Range, a potential that could carry hundreds of direct jobs and hundreds of millions in economic impact if it's built.
Stauber told the committee that the bill authored by McCollum "insulted and disregarded" Range communities in need of an influx of jobs and activity, and expressed disappointment that his the Republican co-sponsors didn't consult with his office before signing onto it.
"The communities on the Iron Range are in desperate need of economic revitalization," he said in his testimony. "There needs to be quality jobs for folks to stick around after high school."
Jason George, the business manager and financial secretary for the Local 49ers based in Minnesota, also testified in front of the committee. The union of heavy equipment operators and construction professionals represent workers in Minnesota, North Dakota and South Dakota, with about 4,000 residing in the Eighth Congressional District, many serving the region's taconite mines.
Calling the bill frustrating, he added it would not allow residents in Northeastern Minnesota to decide the fate of the mine, and encouraged committee members to drive around the Range to see its support for copper-nickel mining, and not rely on polls that carry varying results.
"Many of my members owe their existence to the mining industry, and it's a good living," George said, noting their good wages, pension and healthcare benefits "I believe arbitrarily banning copper-nickel activity, in an area where mining is currently permitted, will rob future generations of these same opportunities."
Lislegard later went on the offensive against McCollum for entering legislation outside her Twin Cities-based district, that would have large impacts to the Iron Range.
"She doesn't come and see us. She doesn't ask how she can help in any way, shape or form," Lislegard told the Western Caucus during a separate forum, which was made available on Facebook. "She is not trying to cripple our way of life. She's trying to kill it."
Caucus members said the forum, and those who testified at the hearing, were necessary steps to show that mining supporters care about the environment and believe they can have the project and a clean BWCA.
It also gave them the chance to show the potential economic impact to cities like Ely and the ever-declining population of the Iron Range.
Twin Metals officials say the project would employ 700 full-time workers with more than 1,000 spinoff jobs, representing a potential boom for the northeastern Minnesota cities that rely on the tourism industry.
That's the story known well locally, but as Nolan once said in 2017, as many of these same mining supporters descended on D.C. to fight the original land withdrawal: "So many of these decisions will be made in Washington. If you don't show up, Washington doesn't know you exist."
The Associated Press and Star Tribune contributed to this report.