HIBBING — Hibbing Community College (HCC), like other colleges throughout the country, has had to adapt education around the current COVID pandemic. Being a topic college in the area, many of the students are prepared for careers in the mining industry.
HCC offers mining related courses in Diesel Mechanics, Electrical Maintenance, Heating and Cooling and Automotive Technician programs.
"Our faculty in these programs have done an amazing job with adapting to the current COVID precautions," said Jessalyn Sabin, Dean of Academics at HCC, over email recently. "They have moved their course delivery to a hybrid model, whereby lecture hours are delivered either synchronously via Zoom or asynchronously recorded in Zoom or Virtual Classroom."
"We have limited the time on campus to mainly be lab time. Additionally, those labs are held in a rotation of limited days of the week, so we can effectively isolate and limit any exposures that could arise," said Sabin.
Being that these are hands-on programs, students continue to receive lab time on HCC's campus, but in a staggered format. First and second year program students are separated, keeping groups small and isolated. "Small pods of students have been working on equipment, and these pods remain the same throughout the semester to make contact tracing easier if need be."
These small groups are one precaution, along with mask usage, hand washing and social distancing, that is utilized to reduce the possible spread of the illness.
"Faculty have also planned to distribute equipment purposefully to isolate what students are working on at any given time," said Sabin. "The amount of time and the depth of consideration and creativity that faculty have invested into this process has been incredibly profound."
Sabin said that she is grateful to work with such resourceful and caring people that continue to work hard to ensure student success.
One such team is that of Steve Oberstar and Jesse Dahl, instructors in the Electrical Maintenance and Construction program.
"We have been very appreciative of faculty, such as Mr. Oberstar, who has approached course scheduling creatively and effectively to allow us to continue to deliver our quality programs in this distanced and hybrid mode," said Sabin.
Electrical Maintenance and Construction is a two-year program in which students earn a diploma and graduate 2,000 hours credit toward a state approved electrical apprenticeship. For first years he teaches: Electrical math, AC/DC Electrical Calculations and Residential Wiring and Code first semester; Generators, Alternators and Motors second semester. For second years he teaches: Blueprint Reading and Habitat for Humanity Construction Project first semester; Commercial Industrial Wiring methods and Instrumentation second semester.
Dahl said over email, that there are typically 30 first year and 30 second year students on campus, daily, from 8 a.m. to 2 p.m. These 60 students share three classrooms and lab areas.
However, the program has seen a drop in enrollment. Currently, 28 students are enrolled in the first year, "we ALWAYS have 30" said Dahl, and 26 in the second year, which is normal.
"Enrollment is slightly down across the collective Minnesota State system," said Sabin, "but the lessons we are learning about what we can accomplish via distance will serve our college well as we adapt to a changing world."
Dahl explained the creative solution he and Oberstar found. "We all know that will not work now. So we had split the week in half and re-configure our entire schedule to make sure we could keep distance between students and keep us all safe. The other instructor (Steve Oberstar) and I now split the week in half. I lecture from home mon-wed morning and I am on campus for hands-on lab wed afternoon - fri. In normal years I would have 1st year student's mon-fri 8am-11am and steve would have 2nd year students 8am-11am. We would break for lunch from 11-11:30 and then I would take 2nd year from 11:30-2:30 and Steve would have 1st year. We are an accredited program so we have a certain number of hours we MUST fulfill each semester, so we had to be very creative to get our lecture hours in."
Dahl began his career working as an electrician through IBEW Local 292 in Minneapolis. In 2009, he took a job teaching Solar PV (solar panel installation) before transitioning to the electrical program.
Dahl is a father and his family has chosen to homeschool this year through Rock Ridge School District. Children Delia, 9, and Lucia, 6, each have desks set up in their bedrooms. "It's important that they have spots so they can kind of keep a schedule and a routine. We feel very lucky to live in the woods, so they have access to trails and woods to roam in during this."
To accommodate his children learning at home, while he teaches at home, Dahl has installed a whiteboard in their dining room, the office space he shares with his wife. "We can easily move things to the side so we can still eat!"
"I have taken over part of my house to build a bit of a classroom. I also put up a mock wall in my garage so I can record lectures of mounting boxes and wiring in a home."
He invested in a camera, microphone and new computer and lectures at night, while the kids are in bed, or on the weekends.
"It's a crazy business we are now in. What I used to teach in person for 10 years I had to figure out how to do it at home and through a computer/phone."
Dahl has had to learn to use different online platforms like D2L, Kaltura and Zoom. His lessons are then uploaded to HCC's platform for students to access.
"None of this was widely used in tech because we are a hands on course. Not a virtual course," said Dahl explaining that is all just to complete the lecture portion of his courses.
For the lab portion of the program, a large classroom across for their current smaller-classrooms was given over to the program. "This room was big enough for use to spread out all 30 students when on campus and have them be 8' apart."
Each of the 30 students in each lab have their own table and welding screens are used as barriers. Face shields were purchased for all of the program's 60 students to use while on campus.
"So when they are on campus and in that classroom they are 8' apart, separated by shields, (they must wear masks at all times) and if they have to get within 6' of any other students or instructor they must wear a mask and a face shield," said Dahl.
Totes have also been installed at each station, complete with all lab material to cut down on student movement.
The classroom lacked presentation infrastructure, "SO, I secured CARES funding to purchase tvs and mounts from a local business, measured out HDMI cables for all three tvs, had to figure out how to split the signals from a new document camera, and build this system from scratch," he said explain it was all mounted. "Then we had to build 30 motor control stations and 30 residential wiring lab stations so each student has their own lab board to work on."
"In normal years we do our residential wiring in the mock house we have built on campus, but we would never be able to maintain any distance that way so we had to figure out a way to get the residential wring lessons taught the same way but keeping them all apart," said Dahl. "We did the same for motor control class, typically the students pair up to work on motor control boards and those pairs are all 2' apart in our motor control lab. That is unsafe, so we had to design and order and build 30 motor control lab boards, so each student has their own labs station."
Still, the large classroom was crowded, "so with the help of our lab assistant Angela Heikklela (she is an electrician) we set up all the other classrooms to hold 6-8 students so that I can if needed sit in my office and do lab work with the students via zoom into the other classrooms…" Dahl explained it is possible for him to teach via Zoom to all the students in the lab. This provides 12 feet between each masked student, increasing the social distance.
Although the program is succeeding with recent changes, Dahl's personal feelings and confidence are finding their way down a new path to the same conclusion.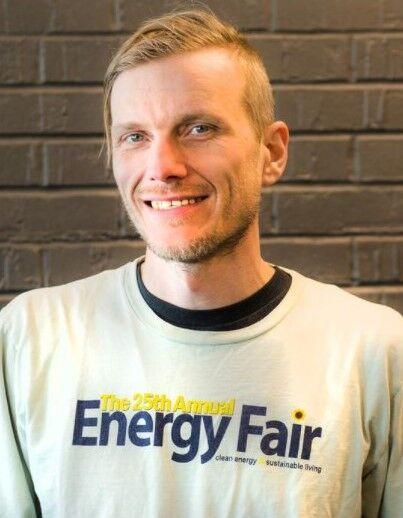 "Through all of this I have moments where I think 'this will work, we can do this and this is the best plan we can have' and I also have moments where I think 'this is so ridiculous, who are we trying to kid, this isn't going to work.' I answer questions from students about online work and schedules at all hours of the day and night. I am proud of the work our department has done. These students WILL get everything they would typically get from me just in a different way, no matter what I will teach them."
Dahl said he doesn't feel burnout but understands where other teachers might. "I take this as a challenge I do best under pressure. That might all change if we get hit with positive cases or long quarantines. I don't envision quitting; I love this job and college."
To the end, Dahl cares about and supports his student now and in the future. "I do worry about what goes on with students when they are not with us, are they safe at home or work? We are so busy figuring out this new form of education that we have not had a chance to discuss COVID and their future jobs. I know a few students from last year have been hired at the mines and we have employers' email about openings so it seems like industries are still hiring."
Steve Oberstar is an instructor at HCC in Electrical Maintenance and Construction.
Oberstar began his career in the field doing his apprenticeship with the IBEW Local 292 in Minneapolis. He worked on large projects as an apprentice, journeyman, forman and general foreman including: Target Field, Light Rail and the Minneapolis-St. Paul Airport.
Of the 20 years he spent in the field, 10 were running a contracting business with his wife. Oberstar has been a college instructor for the past four years, most recently at HCC, and previously two years at Lake Superior College teaching Commercial/Residential wiring.
MT: What changes have you had to implement this year, due to COVID, in your courses? ​
SO: I've changed the way I instruct a class that has primarily been delivered in person with hands-on lessons. In a program like ours, typically we have lots of hands on learning. Students have expressed that they would rather be in class discussing while doing, rather than doing discussions on a computer screen. We have had to spread out in multiple classrooms to keep a maximum of 10 students at a time when we do hands on learning.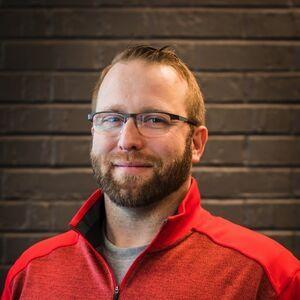 MT: What has changed in your instruction style?​
SO: When we could teach in person, I would use our campus buildings as a visual representation of what I may have lectured on. Now I need to get creative to try and show what I may be talking about. I have used more power points with pictures that I have taken, or past students have taken from job sites.
MT: How are you using technology differently?
SO: ​I have had to completely change the way I deliver my lecture courses. Using virtual classrooms is new to me and many of the students. Using the computer daily vs not using it at all.
MT: Are you teaching more online classes?​ Can you give me numbers- this year versus last year?
SO: ​Yes. One year ago, I taught zero on-line courses. My first experience with teaching on-line came in the Spring of 2020.
MT: You teach in a very hands-on area. How have these changes helped or hurt the education of your students?
SO: ​For me, the helpful side of this has been I can focus in on the quality of the information I'm delivering vs the quantity of information. ​I feel like I need to train students to be ready to contribute on day one in the electrical industry. The skills a student needs for day 1 on a job is much different than the skills they need 4 or 5 years into their careers. The electrical trade requires lifelong learning; so, breaking down what a student needs to know or master to be successful and contribute in the first 6 months or year on the job is what I like to try and do.
MT: What is different?​
SO: Managing time efficiently. It is challenging to manage lab time when you may have to break labs up on a weekly basis rather than a daily basis.
MT: In these hands-on courses I imagine you get close to students to show them how to do a particular thing. Are you worried about this close contact?​
SO: Yes, I am. I worry about the student's health and my own. As instructors, we are trying our best to make sure students have masks and face shields on when we need to be within 6 feet of one another.
MT: Have you adapted how you teach so there is more space?​
SO: Yes, we have. Our campus administration has been helpful with providing resources to spread people out. I teach a blueprint reading course and I use the blueprints for our campus buildings to aid in this class. This year I was able to purchase a set of the blueprints for each student rather than having the students share.
MT: How does this help/hinder the instruction?​
SO: It slows down the instruction. I feel like that isn't a terrible thing though. I may have to say the same thing 5 or 6 times, but I get to say it to a smaller group of people and that allows for expanded conversations.
MT: How do YOU, as the instructor, feel about the education your students are receiving?​
SO– I feel like the education they are receiving is preparing them to be successful in the first year of their careers. With the pandemic, I can have the students master the things they need to know to contribute on the first day of work. In the program that I teach in (Electrical Maintenance and Construction) the other instructor (Jesse Dahl) and I really take pride in trying our hardest to give the students what they need to be successful.
MT: How do YOU feel?​
SO: I feel challenged, overwhelmed and some days tired. It is a lot of work to reorganize and figure out to deliver information via the virtual classrooms.
MT: Is burnout an issue?
SO: ​YES... I am writing this on the Sunday of MEA weekend. MEA was an opportunity to disconnect from work for the first time in 8 or 9 weeks. I have had to take work home with me 6 or 7 days a week in order to keep up. This year it seems like teaching has become a 7 day a week job.
MT: If so, what could be done to better support you as an instructor?​ ​
SO: The simple answer would be to have some days to try to get ahead. Having students 5 days a week and not being able to be on campus for half the week makes accessing resources challenging. I also have a young family, so I don't have a lot of free time to come in evenings and weekends.
Example: All my coursework is set up for in person delivery. I need to have access to the copy machine at work to scan all my content into a digital format. I then need to create assignments and post that information for all 5 of the classes that I teach onto the digital platform we use.
MT: A recent study was done in MN showing that an increasing amount of teachers are thinking about quitting. Has COVID affected your retirement or career plans? If so, how?​
SO: No... I'm still new to teaching and this is a character-building year for sure... I can see how more experienced teachers would not want to deal with reinventing the way they deliver their curriculum. It is very difficult!
MT: What sort of feedback are you getting from your students about their education in the time of COVID?​
SO: Overwhelmed is the most consistent term I have received.
MT: How do your students talk about their future in mining careers? ​
SO: The state of our local economy is always a consideration for our students who are looking at mining. When the mining industry is experiencing challenging times, students ask about other opportunities outside of mining.
MT: How has COVID changed the way they talk about their education and future?​
SO: The top concern is the job market... if our nation's economy is struggling what are the job opportunities going to look like.
MT: Will your classes forever be changed? ​If so, how?
SO: I hope not ... I was just starting to get things figured out and organized to teach efficiently in the classroom. If I need to embrace some of these changes I think it will be okay. I have learned new skills in these challenging times that I can use if I need to continue to deliver my classes in the on-line format.
MT: When do you think they will go back to "normal"?​
SO: I'm hoping for fall 2021. If not, I will be prepared to improve on what I've had to build this year.