After a combined 30 years in the mining industry and demolition, Mark Sutich was inches away from a dream retirement in Florida when a phone call from a random company changed everything.
That was in 2002.
Today Mark and his wife Kandi own two businesses in northern Minnesota – one of which, the Biwabik Mary Ellen Stone Co. - includes a mine where he and his employees harvest waste rock, taconite and Mary Ellen Jasper Stone, to create some of the most unique monuments, counter tops, table tops, signs, and landscape material available anywhere.
It's been a long, strange and sometimes extremely frustrating trip for the couple, as they've had to navigate several unforeseen obstacles along the way – including a pandemic just as they got the ball rolling on the business.
"In 2002 we had decided it was time to pull the pin, retire, sell everything, buy a live aboard boat, find a slip in Southern Florida near the Keys and enjoy life as long as we were young and healthy. Eventually we would move back to the Iron Range," Mark Sutich said.
At the time, the couple was living in Northern Indiana, where they had moved after the Erie Mining Company had closed its doors in the 1980s. Mark had been employed at Erie for 15 years and with no opportunities readily available on the Iron Range (at the time), he took a job at a steel fabrication company in the Hoosier State.
He spent the next 15 years there involved in plant layout, plant tear out and industrial demolition, while Kandi ran a small business.
When he left that job the plan was to retire but then he got a call from a Chicago company he never heard of, that was involved in recycling and industrial demolition and looking for a person with his particular set of skills.
He took the job and that opened up some unexpected doors.
While attending a trade show at McCormick Place in Chicago he ran into a high school friend from Biwabik who was working for the IRRRB.
"He told me that the LTV (formerly Erie Mining Co.'s Pellet plant) was being sold for demolition. I attacked that project with great passion, I put together a first-rate demolition team and we purchased the pellet plant and began a five-year demo," he said. "I had worked in that plant when I was hired on at Erie. Pushing the button on that was truly a pleasure."
While doing the demo he met a man who was selling stone from the mine for rip rap, armor stone and landscaping.
"He had no heavy equipment to load the stone, so I helped him out by using excavators off our job. He showed me all of the different types of stone available in the mine," Sutich said. "Suddenly I saw more than the dirty grey and red rock we all grew up with."
He saw an opportunity and a plan was hatched.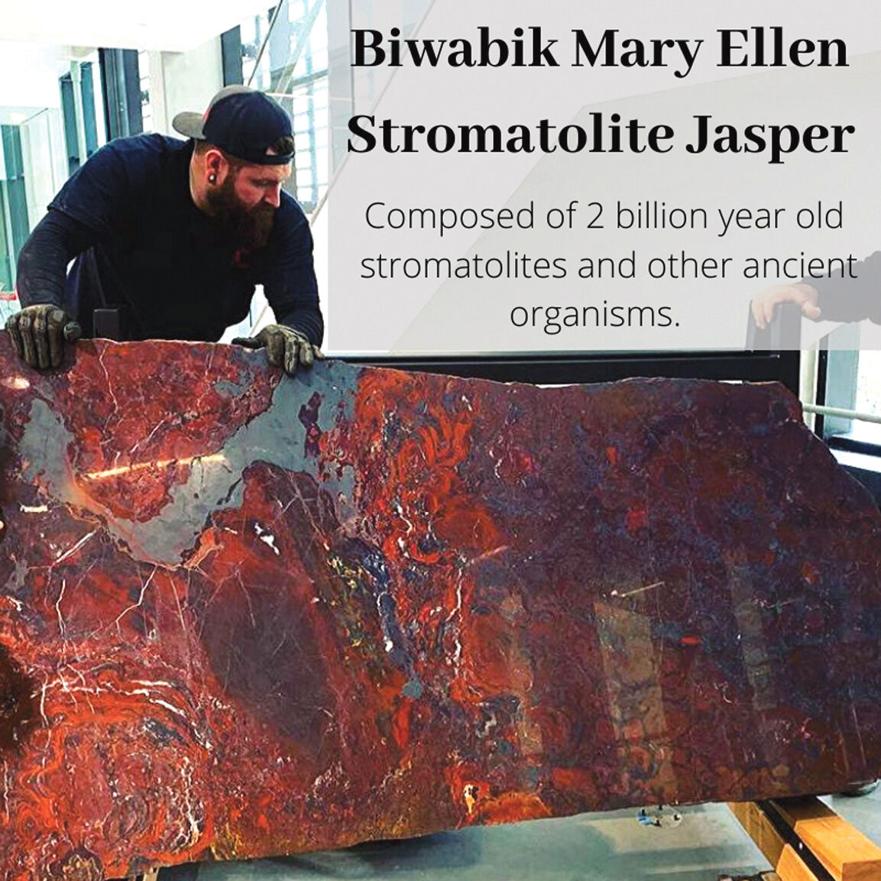 Sutich said he learned two things from that initial project: The mine rock was beautiful, and it was hard – extremely hard and nearly impossible to cut.
Knowing he would need some serious equipment if he wanted to get into the business, he and Kandi took a look at a long time Virginia business that was on the verge of being put up for sale – Range Monument.
While the equipment available at Range wasn't big enough to do what they were planning to do – cutting and processing taconite – they looked at it like an investment in their education.
"Our initial plan was to purchase the business, shut down the operation and start learning how and if processing taconite was feasible," Sutich said. "After meeting the employees of Range Monument and being made aware of the skill, craftsmanship and high quality of the products they were producing we made the decision to keep Range Monument operating under the new name of Laurentian Monument Granite & Stone (LMGS)."
Sutich said the decision to keep operating LMGS (which has been in business for 112 years) has been instrumental in the financing of the Biwabik Mary Ellen Stone Co.
****
The products Sutich and company sell through the Biwabik Mary Ellen Mine Co. are used by everyone from homeowners to artists, landscapers, masonry contractors, bridge builders and sign makers. Examples can be found everywhere from airports to condos to monuments and markers.
"We have masonry and landscaping distributors and architects will spec our stone for commercial buildings as well," Sutich said. "Local examples on public buildings where our products can be seen are the Hibbing/Chisholm Airport, the St. Louis County Government building in Virginia, The Burnt Onion at Giant's Ridge and The Tom Rukavina Memorial Bridge."
The Biwabik Mary Ellen Stone Co. was actually conceived before the purchase of LMGS, Sutich said, but due to a lot of red tape, legal issues and a number of other logistical and communication problems the doors on the stone processing plant did not open until 2019.
And then, Sutich added, "voila, COVID-19."
It all started with buying the Mary Ellen Mine, which was operated by several companies between 1924 and 1962.
"This was an unbelievable experience which took years," Sutich said. "Our interest in the mine was not only due to the large quantities of Mary Ellen Jasper available but also the buildings on the property could be renovated to suit our need for a processing plant."
As one could imagine, buying an actual mine is not an easy process and there were several issues that complicated matters along the way – from property and ownership questions and delays, to difficult negotiations with the city of Biwabik, to funding issues.
"Our specific business had challenges specific to mineral rights and ownership. This challenge was time consuming but very interesting. Minerals as well as waste rock are owned by individuals, families, companies or organizations of which hold the rights to minerals," he said. "We spent countless hours trying to understand and locate the rightful owners of much of the stone we were hoping to harvest. Legal descriptions of land, stockpile numbers, and descriptions of materials had to be identified often to people who were not familiar or aware of the existence of the material."
He added that with the help of the Land and Mineral division of the Minnesota Department of Natural Resources along with many helpful members of mineral owning families and organizations they were directed down the right paths.
At the same time Sutich was navigating those hurdles and more, opportunities to get their product into a number of big projects, including the new Vikings stadium, the MoMA Tower in New York City (planners wanted Mary Ellen Jasper stone included) and a barrier stone for Target Field before the 2014 All Star Game, were missed.
"To add to these headaches we had companies from Sweden, Germany, Italy, Israel, China and the United States working to develop the proper diamond matrix's and material compositions for the segments of saw blades and diamond wires to cut some of the worlds hardest and most unpredictable stone," Sutich said. "Minnesota and Italian companies wondering when purchase orders would be issued for nearly $1 million dollars for equipment to process the stone."
Eventually everything fell into place and the company opened its doors.
****
The process for creating the products that come out of The Biwabik Mary Ellen Co. is quite involved.
Sutich said BMES does not quarry any stone, nor do they mine it.
"We harvest the material through several different methods from large excavators, front end loaders, skid steers and right down to hand picking," Sutich said. "Stones of various types and sizes are selected then transported to either customer locations or our processing plant at the Mary Ellen Mine."
The plant has several methods of processing, splitting, veneering, sawing and slabbing/calibrating/polishing. Stones for landscaping are often split for sizing or for providing natural appearances, wall stone is split for dimensional and appearance purposes as well, Sutich said.
Thin veneer is created by splitting stone to specified depths and sizes. Flagstone also is often split to create specific sized flagging. Sawn veneered stone is stone which is sawn into thinner thicknesses than splitting will allow.
"This stone can be applied to interior or exterior walls without making special accommodations to bear the weight of full bed veneer. A great example of sawn veneer stone is the Hibbing airport," Sutich said. "We supplied all of the stone for both interior and exterior, it is a blend of Animikian, Precambrian Rose, Minnesota Brown Green and Virginia Slate. Often times unique stones will be hand selected to be used as feature stones. It is the Iron Range medley.
Polished Taconite countertops and Animikian sawn veneer can be seen at the new St. Louis County Building in Virginia. After countertops and Monuments are cut and polished at BMES they are transported to LMGS in Virginia for fabrication and engraving for our customers' individual needs.
The company is spread across several miles and logistics are an important part of the daily operations. Stone is harvested from several different sites north of Hoyt Lakes at the old Erie/LTV mine.
Natural unprocessed stone is delivered directly to distributors and customers, the stone to be processed is trucked to the Mary Ellen facility for splitting, veneering or slabbing and polishing. From there the processed polished slabs are sent to LMGS in Virginia for fabrication. Some veneered products will also be shipped to LMGS for distribution or customer pick up.
The entire process is completed with a bare bones staff of very dedicated employees.
Between LMGS and BMES there are eight full-time employees and two part time employees plus a seasonal employee.
"We had hoped to hire more people last spring, but due to (COVID 19) we were not able nor comfortable in doing so. Our plants have some very sophisticated machinery and training is of utmost important. When we returned to work after the COVID shut down we did not have sufficient time or funds to properly train new employees," Sutich said. "So at present we all wear several different hats."
And while demand for processed taconite has been down for most of 2020, Sutich sees hope for the future.
"We are seeing increased interest as this year moves on and are seeing opportunities for growth in 2021," he said.
And after such a tumultuous journey from idea to reality, he also has some advice for the decision makers and elected officials across the area who are looking to expand beyond mining and attract new businesses to the Iron Range.
"Small businesses on the Iron Range seem to be overlooked by the immense size of the mining industry. Many of us remember the day that mining took great care of our local communities. They supported us and supplied us with our needs, which at the time perhaps was a necessity," Sutich said. "Those days, sadly, are pretty much gone. I am not at all trying to suggest that the mining industry does not support us, and we all have felt the effects of their doors closed. We are strong supporters of the mining industry and are fully aware of the quality of life they provide."
Sutich said communities need to realize that small business is becoming the mainstay of both small communities and large cities as well.
"When opportunities arise, they must be analyzed rapidly, decisions need to be made quickly and the willingness to support or not to support an opportunity or venture must be transparent," he said. "Business and industry rarely have the luxury of waiting until next month's meeting because for business every lost day is another lost dollar. We all know that cannot be sustained for long."
For more information on The Biwabik Mary Ellen Co. in Biwabik or LMGS in Virginia see www.maryellenstone.com or www.laurentianmgs.com.