As I sat down with Al Hodnik on a cold October day, the city of Aurora had just commemorated what will soon be the Nashwauk Market on the main drag.
It was a full-circle type of day: The location was once a bustling union hall for the Erie Mining Company's LTV mine in Hoyt Lakes, which in its heyday employed more than 2,000 miners before it closed in 2001. It would become a food shelf yet the city would lose Zup's Food Market, a pharmacist and a dentist.
So, a handful of years later, the arrival of the new locally-owned grocery store was a more-than-welcome entity. It isn't that Aurora has remained stagnant. The city had added a coffee shop, a realtor and real dreams of the PolyMet copper-nickel mine. But filling the union hall with a business that could once again be bustling with people flowing in-and-out of its doors is an appealing concept.
Especially for someone like Hodnik, the former city mayor now chairing ALLETE, who through the Housing and Redevelopment Authority helped keep the lights on, the building in shape and personally cut the grass when it was needed.
Hodnik gave me a brief tour of the building as we looked for a place to talk — the main room of the union hall where a dog training business called home, what part of the building was an addition to the original — before we finally settled in a former office.
From previous conversations, I knew he was more than a bit of a history buff, but his innate knowledge of Aurora and its nuances — he's encyclopedic, at times — speaks to someone with a deep commitment to a place rather than a place in time.
"We're invested here," Hodnik said of him and wife, Erika. "She's a Gilbert girl, but we're invested here. We raised our girls here … this community means a lot to us."
****
Alan R. Hodnik was born in Virginia in 1959 and lived in Aurora during his formative years.
His family resided in the Sunset Acres neighborhood on the west side of the East Range city. The schools were "loaded and full of kids" at the time as the Erie Mining Company operated at full capacity. The city had a lot of activity, good schools, teachers, mentors and lots of friends, as he described it.
And most of all — possibility on the Iron Range and its East Range cities.
"Although I didn't fully understand Erie Mining Company, so to speak, it was boom time. It was like living in Edina," Hodnik said. "You couldn't pick a better time to grow up in the community between, say, 1955 and 1985. It was a wonderful time."
For a guy inducted into the Minnesota Business Hall of Fame this summer, his career was a ground-up sort of start — a blue collar to white collar career in which Hodnik never lost his Iron Range roots.
He describes it as an "eclectic kind of semi-divergent career over time" that took him from unloading railroad cars, to being a union man, government roles before moving up to an inside role at Minnesota Power.
His father worked at Minnesota Power's Laskin eclectic generation plant in Hoyt Lakes for 30 years and Hodnik worked there himself during the summers while attending the University of Minnesota. After graduation, he took a full-time job but was laid off six months into it when the steel industry dipped into a deep recession and mining on the Range crumbled.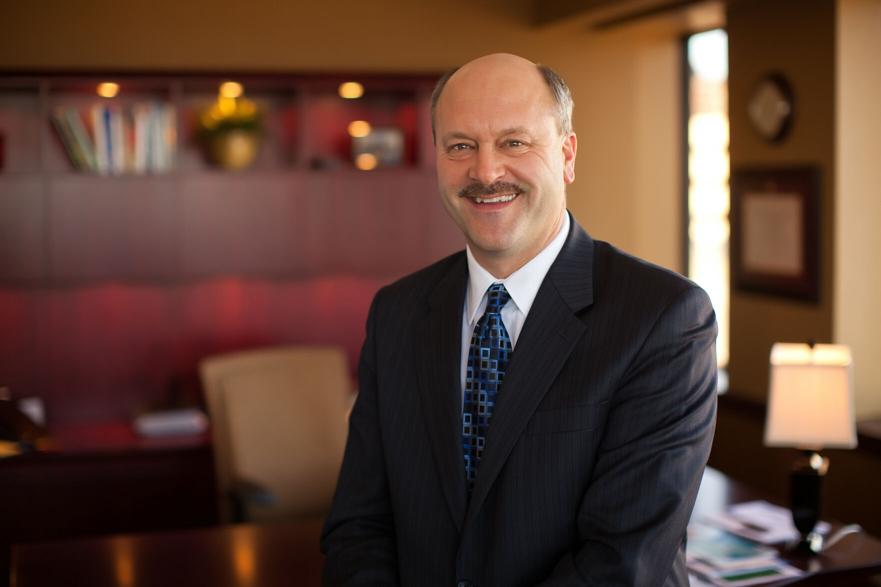 "I always tell people, even when I was CEO later on — on this improbable run — that I know both ends of the problem very well," Hodnik said. "I know both the CEO's end of the spectrum and I also know the laborer's end of the spectrum when it comes to these kinds of business cycles."
After being laid off, he took an operations position at the company's Boswell plant in Cohasset, where he met Erika. When things rebounded in the 1980s, he started working his way up the Minnesota Power ladder, running the Laskin plant in Hoyt Lakes and creating the Laskin Energy Park, an industrial complex that gained traction when LTV closed. He would also manage operations in Cohasset, and when Minnesota Power bought the Taconite Harbor Energy Center when LTV went bankrupt, he was charged with bringing it into the fold.
In 2009, he became president of ALLETE, the parent company of Minnesota Power, and served in that role for 11 years. He was named the CEO in 2010, a position he held for the next decade. In 2011, he was named chairman of the ALLETE board of directors and after nine years was named the executive chairman in February 2020.
Hodnik has since handed the reins over to Bethany Owen as the new president and CEO, an 18-year veteran of ALLETE and the first woman to hold the titles in the company's history. He plans to step down as executive chairman of the ALLETE board in May 2021, ending a 40-year run with the company.
"It's been quite an interesting career," he said.
****
During visits to his alma mater, Hodnik used to look at the wall of the McNamara Alumni Center at the University of Minnesota, where the names of the Minnesota Business Hall of Fame are inscribed.
It includes names like Glen Taylor, the owner of the Star Tribune and Minnesota Timberwolves, Medtronic founder Earl Bakken and Minnesota Twins former owner Carl Pohlad, among others — more than two decades worth Minnesota natives who excelled in business.
In a twist of irony, Hodnik was unable to be at the McNamara Center for his own induction into the hall of fame. Due to COVID-19 restrictions, it was held virtually, and in true Hodnik form, he held a watch party in his hometown of Aurora with family and friends gathered on his patio.
"It was so fun to be here in town," he said. "So, I actually accepted and received and was part of it here in my community, which I also thought was extremely fitting, in terms of coming full circle."
He never imagined that his name would be there, calling it humbling to even be nominated, and now a capstone to his career with ALLETE and Minnesota Power. But he attributes a lot of his success to "waves and waves of exceptional talent" at the company and the generosity of mentors that put him in this spot.
"Especially considering my upbringing and where I started, and where my hopes and aspirations were back then," Hodnik said, "Never in a million years had I planned on being CEO, let alone an inductee into the Minnesota Business Hall of Fame."
What's next for Hodnik isn't completely clear.
He can envision a consulting or advising role, maybe another government role. He'll keep his board of directors roles at PolyMet and Essentia Health, but he's not in a rush. He wants to engage locally, volunteer his time and maybe teach.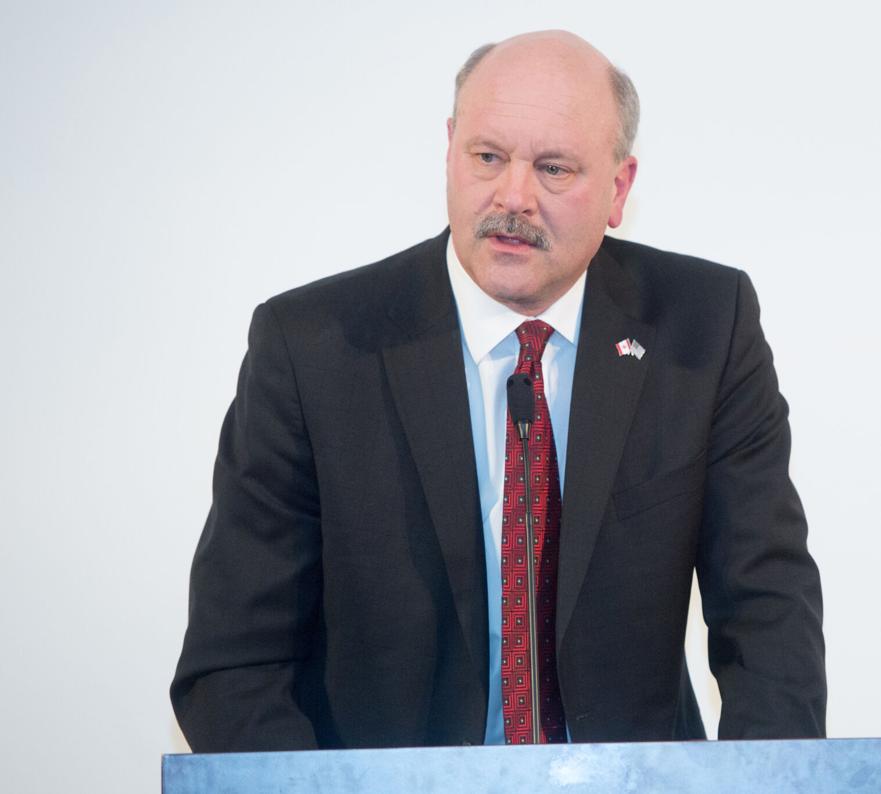 His retirement is still a phased process until next May and he's due for a break after four decades, but the outlook is still being worked out. As he put it: "I didn't want to be a hanger-on and I didn't want to stay around forever. So 40 years is a good career. I feel blessed. There are other things to be involved with over time."
****
It was shortly after the announcement that Hodnik was stepping down as president and CEO of ALLETE that he had the first reality check of his new role around Aurora. He and Erika had recently sold their home in Hermantown and moved back to the East Range house they maintained the entire time. Al had become accustomed to volunteering his time around the city, fixing things that have bugged him over years, calling back to his days as mayor and with the HRA when he mowed grass at the former union hall to keep it looking nice.
On one occasion, he was on a ladder painting the 25-foot-tall Mesabi Trail entrance that sits squarely in the city's purview. The paint had worn over time and bothered him.
"I'm up there painting this arch. Now mind you, I just announced my stepping down as CEO of ALLETE, so big shot, right?" Hodnik muses. He was wearing old clothes and a battered San Francisco Giants hat when a few kids crossed his path on the trail and asked if he was the "old man" that painted the baseball field lights the prior year.
He was, but he also volunteered his time and enlisted Minnesota Power to help move the Aurora ballpark lights after the city received a Minnesota Twins grant to move the field by 30 feet to avoid flooding. The lights didn't move with the field.
The kids thought the new field looked great, told Hodnik so, thanked him and left.
"So I get home to Erika and I said, 'Well, I now understand I dropped from CEO to the old man painting.' It was so poignant and so hilarious and I felt so good about it. And hopefully those little kids took a good example from me."
Every year for about the last 20 years, the city of Aurora gives out the Al Hodnik Community Engagement Award, in recognition of his time with the city and as mayor. He doesn't choose the winner but presides over a ceremony handing it out.
His volunteering is part of living up to that award by setting an example, especially for the city's younger population, but it's also about building a core of volunteers necessary to make a small town strong through the work nobody else wants to do, to give the city the "shot of energy" he feels it needs.
The Hodniks give financially to the city, but recently they've invested in the sweat equity end of Aurora, starting with things that bothered Al at the city's entrances and around city hall.
"People had been laughing about my painting, but I think that the image of the community needed a little bit of a shot in the arm," he said. "I want the community to look good. I will just say this, I'm very concerned that Aurora is always dependent on a strong voluntary core. It has strong volunteers, but I want to make sure our young generation can see living proof, a living example of how you can go about making a difference."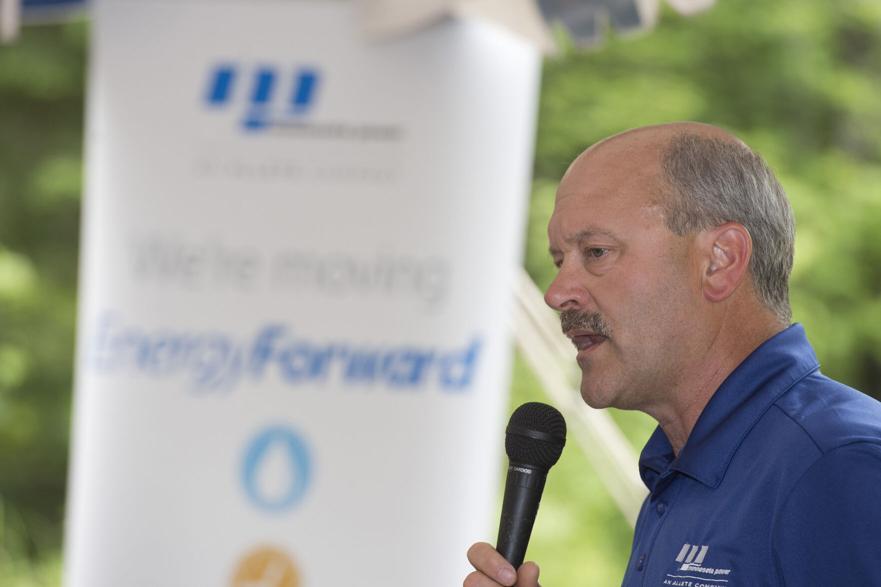 ****
As the narrative of the current Iron Range goes, Al Hodnik isn't supposed to be here still.
Kids grow up in the region, go to college elsewhere and never return for more than holidays, summer vacations or maybe short stints, except for the rare occasions that they come home to stay.
It's not just a Range issue but one across Greater Minnesota.
Still, the Hodniks are here to stay. Even after leaving for Grand Rapids and Duluth for periods of time, their Aurora home always remained.
"I think I could be labeled as an example," Al said of breaking the narrative of homegrown talent fleeing the area for greener economic pastures. "You know, we never wanted to leave here. We like it here."
The Iron Range era he grew up in between the 1960s and 1980s, when mining booms dictated everything, probably won't return and "it probably shouldn't necessarily either — it has to evolve and it has to be different," he said.
What's similar is the possibility that existed when the previous generations of Hodniks lived in Sunset Acres.
PolyMet is a few favorable court hearings from having a green light to begin construction, which is expected to bring more than 350 direct jobs, about 600 direct jobs and around 2 million hours of construction.
"I don't think you get away from the natural resources economy," he said. "I think we still have that here, but I think you can do other things, including tourism, of course, but also working virtually. And we may be able to maintain some of our population here and some of the people who want to be here by working in a different manner."
In Hodnik's mind, expanding rural broadband to allow entrepreneurs and tech workers to live and work in the Northland, where scenery and recreation can mix with remote working environments, especially as a number of factors make a dent in metro living.
Hodnik was among the voices that helped launch Recharge the Range, an initiative focused on bringing new industries to the region that partnered with Iron Range Resources and Rehabilitation Commissioner Mark Phillips.
There's examples of this vision already. Blue Cross Blue Shield of Minnesota closed its Aurora office building this year but shifted its workers to remote jobs at home. The COVID-19 pandemic has shown employers and employees alike that working from home is possible for small businesses and may lure larger businesses to allow remote opportunities that the Range can capitalize on.
"I think there's a theme of, you know, maybe bigger is not better. Maybe smaller is in," Hodnik added. "And I think the Range brings that sort of coziness, with just enough to do here with recreation, where you can still have a good life, good schools and raise your kids."
He'd be the one to know: A bottom-up executive that served his city, for years spending his weekends keeping the lights on and weeds out of a closed union hall that was once a hub of activity and beacon of hope in Aurora.
When Al Hodnik talks about returning to Aurora as his full retirement nears, he has a different take on what that means compared to the typical Iron Range narrative. And maybe that's what the lasting legacy of the Hodnik name will be in the region, not that of the successful business person and mayor, but of what he does in this next phase of his life for the region and the city of Aurora.
"I'm not returning to the Range in the sense that I haven't been here. I've always been here. I'll always be here. My heart is always here."
He continued: "And whether that's manifested in painting, or whether that's manifested in teaching or helping others, I'm going to continue to be engaged here, on the Iron Range, in its future. You can count on that."