Minnesota Representative Pete Stauber reported he was safe inside the U.S. Capitol after an insurrection by extremist supporters of President Donald J. Trump halted the Electoral College certification vote Wednesday, as he drew more criticism for backing unfounded election fraud claims.
Hours earlier, Trump encouraged protesters to "take back our country" and walk down Pennsylvania Avenue in Washington, D.C. toward the Capitol building. His lawyer, Rudy Giuliani, called for "trial by combat," as they hoped to challenge the results of the election and the Electoral College certification by Congress.
The riots were part of a volatile day in Washington, D.C. and in St. Paul, where Trump supporters also gathered on the grounds of the Minnesota Capitol to protest Biden's win.
Meanwhile, some Minnesota leaders were critical of Stauber and called for him to resign over his support of efforts to undermine the election results and said the congressman played a role in inciting the pro-Trump mob, despite his intention to vote for its certification.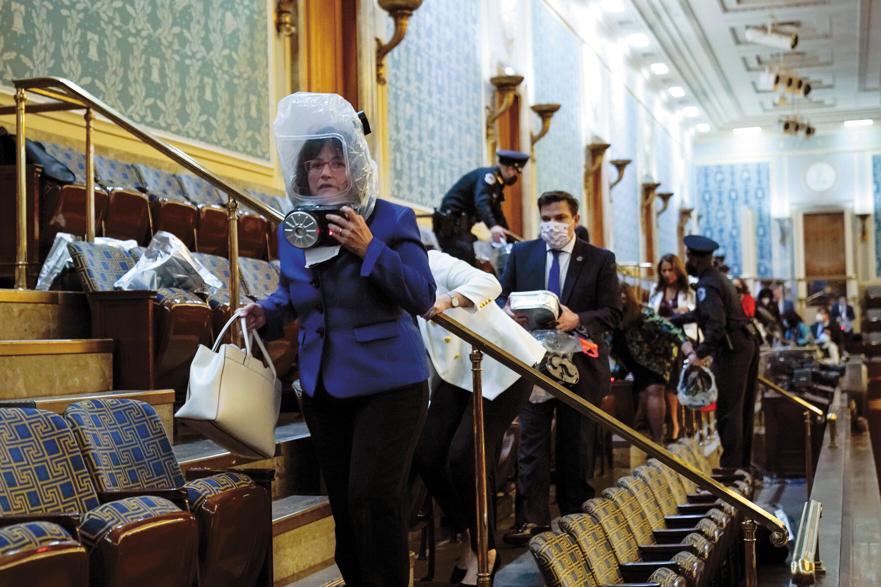 Around 12:51 p.m. Central Time, Stauber proclaimed his support for the president and expressed his concerns over election integrity. He also announced that he would vote to certify President-elect Joe Biden's victory, finally breaking with the president and other Republican members of Congress.
In his statement, Stauber said he "fiercely supported" the president during his re-election bid. "I stood with the President in Duluth, Bemidji, Mankato and the Twin Cities because, like me, he understands and fights for our way of life," he said. "I share many of my constituents' disappointment with this election. I have serious concerns over election integrity and the significant, widespread abuses in our electoral system that have gone unchecked in many states and cities for decades."
He added, "I'm extremely grateful to President Trump for the incredible job he has done these past four years. There has been no greater ally and champion of our economic drivers in Minnesota's Eighth Congressional District, which is why I have stood with him from the beginning."
But Stauber later told the Duluth News Tribune that he was disappointed in Trump's rhetoric in a rally outside the White House that morning.
"It's unacceptable that this protest, or rally, got out of hand, storming the Capitol and putting so many people at risk," Stauber said. "I think President Trump had the opportunity to tell the people, specifically, 'You must remain peaceful,' because that's who we are and it spiraled out of control. I for one am extremely disappointed in what President Trump said, and also extremely disappointed in the behavior of many people today."
In his statement, Stauber went on to cite the role of Congress in the election process and his support for states' rights in choosing their electors in his decision to certify the results. "However, our Constitution permits only a limited role for Congress in the presidential election process. The Twelfth Amendment of the Constitution asserts that the role of Congress is to count the electors submitted by the states, not to decide which electors the states should have sent," he said in the statement. "I am and always have been a firm believer in states' rights and the Tenth Amendment. Overturning the results of the Electoral College would be an overstep of Congress' limited role and would revoke power from where it should be derived — you, the people, and the states. Further, it would set a dangerous precedent, in which attacks on the Electoral College will be emboldened while efforts to eliminate it altogether are strengthened."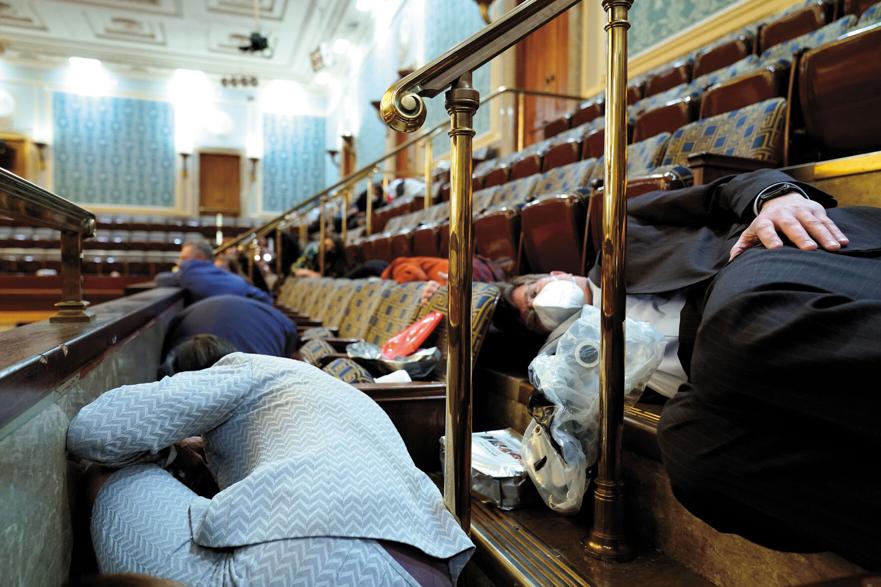 Stauber and Trump spent much of their re-election campaigns in 2020 deriding states' handling of George Floyd protests and riots in May, touting the GOP as the law and order party.
But as violence broke out less than an hour later, Stauber's initial statement did not condemn the people storming the Capitol — actions that lead to at least one woman being shot and killed, federal police officers being injured and Trump supporters to loot the House and Senate chambers and several congressional offices — instead urging them to "respect law and order."
In the DNT interview later Wednesday, Stauber said he was in his office at the time of the Capitol breach and referenced the George Floyd demonstrations in condemning Wednesday's invasion. "There are no excuses for this type of behavior," he said. "We've seen this behavior for the last seven, eight months across this nation. We've seen it in Seattle, we saw it in Minneapolis — Minneapolis burned down. We saw it in Chicago, New York and other major cities. It's simply unacceptable. This is un-American. We will support and we will always support the First Amendment to peacefully protest. This was not that. This was simply unacceptable."
His decision to certify Biden's win came after he had joined two other Republican members of Congress from Minnesota in signing an amicus brief in December that challenged the election results through the U.S. Supreme Court.
Wednesday marked the first public comments from the Eighth District congressman signaling his acceptance of the results. The delayed Repubican response — U.S. Reps. Tom Emmer and Jim Hagedorn still have not publicly tipped their hands as to their vote — gave Democrats fuel to place blame on the lawmakers as being complicit in amplifying false election fraud claims that helped incite Wednesday's insurrection of the U.S. Capitol.
In Washington, D.C., Minnesota DFL Congressman Dean Phillips posted a tweet at 1:38 p.m. Wednesday that he was being asked to "take cover on the House floor and get out gas masks ready. This is insane." He reportedly yelled, "This is because of you" to Republicans on the House floor as the chamber recessed over safety concerns. He would later tell reporters, "I said what I was feeling. This has been brewing for four years. And the collective dereliction of duty manifested itself in that moment for me."
At 1:56 p.m., Stauber tweeted: "Please pray for our very brave Capitol Police and our great nation. This is the People's House, but we as a nation MUST respect law and order."
Back in St. Paul, DFL State Rep. Rob Ecklund of International Falls tweeted his concerns at 1:57 p.m.: "US Capitol locked down as Trump supporters clash with police. This is ridiculous and frightening. What is going on in DC is not right. All involved need to be prosecuted!"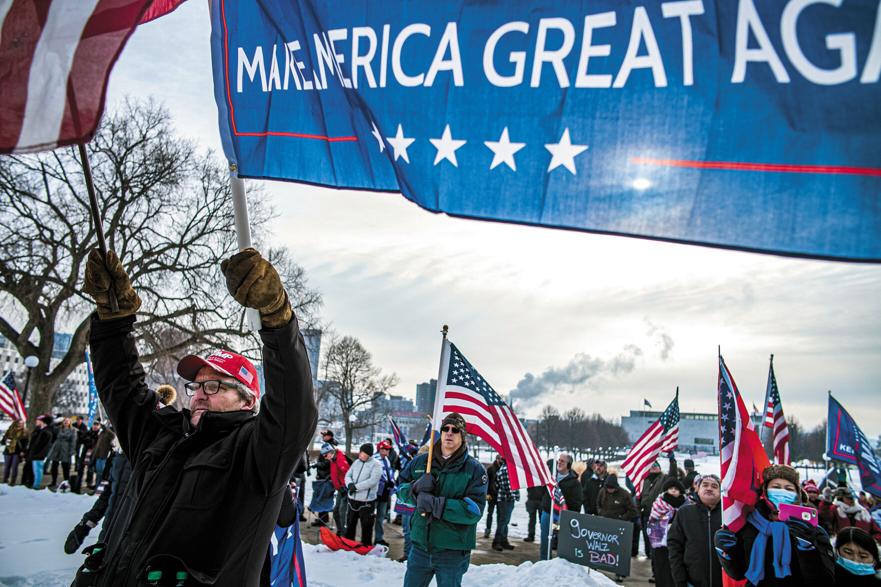 State Sen. Jen McEwen of Duluth posted a tweet at 2:14 p.m. to call for Stauber to resign, adding, "You are a disgrace to the 8th and to the State of Minnesota."
Fifteen minutes later, Duluth-based KBJR, who spoke with Stauber over FaceTime, was reporting the congressman said he was hearing flash bangs from a safe location in the building and said he was able to communicate his safety to his family.
Six minutes later, DFL House Majority Leader Ryan Winkler posted a tweet: "Your silence on the legitimacy of this election makes you complicit in this violence, @RepPeteStauber. Same for you, @RepTomEmmer. You are unfit to serve."
In an email, DFL Party Chairman Ken Martin said that the trio of Republican congressmen and GOP State Sen. Michelle Fischbach had been "fueling the fires of conspiracy and paranoia that now threaten to engulf our nation's Capitol." He continued, "Each of Minnesota Republican members of Congress has worked to sow distrust in the American electoral process and each of Minnesota's Republican members of Congress bears responsibility for the violence their actions have helped unleash." GOP Party Chair Jennifer Carnahan, who was among the first in the Minnesota GOP to validate election fraud claims, tweeted: "The violence taking place at the US Capitol is not American or representative of what we believe in, in our country. Peaceful protests are one thing, but attacking police and breaking into the Capitol is quite another. Hoping for peace and the safety of all."
Meanwhile, Fischbach maintained that she would object to certifying Biden's win in a statement sent minutes before the Capitol was breached.
At 3:32 p.m., Independent State Sen. David Tomassoni of Chisholm condemned the actions of Trump supporters from Minnesota. "What's going on in Washington is outrageous, unlawful, dangerous and needs to stop or be stopped." Minutes later, a spokesperson for Stauber responded to questions from the Mesabi Tribune, issuing a stronger rebuke to the situation: "As a police officer, Congressman Stauber believes in the right to peacefully protest," Kelsey Mix, communications manager, wrote in an email at 3:34 p.m. "However, what is happening at the Capitol today is not that. This violence is unacceptable and those who breached the Capitol must be met with the full force of the law. The Congressman condemns these rioters' actions. Please pray for our nation."