VIRGINIA — Chris Knight, publisher of the former Mesabi Daily News and now Mesabi Tribune, is remembering Bill Hanna as "a committed journalist who wasn't afraid to take on any issue in search of the truth." Knight's words are those echoed by many colleagues and friends in remarks to the Mesabi Tribune in the wake of Hanna's death.
Hanna, former executive editor of the Mesabi Daily News and award-winning journalist, died early Monday morning, January 11, at his home in Virginia/Mountain Iron.
Hanna had been with the Mesabi Daily News from the mid-1980s until 2016, when he had a life-changing heart attack. He successfully underwent a heart transplant in 2017, receiving the heart of a young man who had died tragically. Later Hanna was diagnosed with terminal cancer, for which he had radiation and chemotherapy until December. He had been in hospice care since December 24. Hanna had been with the paper more than 30 years, joining the staff in the mid-1980s and serving as managing editor. He later was named editor and for the last several years had been executive editor.
Knight, who started at the MDN as advertising director in 1995 and became publisher in 2006 and has been regional president and publisher of Adams Publishing Group Northern Minnesota since 2014, said, "I knew Bill as a friend and co worker for more than 25 years. During Bill's long career, he covered many difficult and challenging issues, and oftentimes he received heavy criticism for his editorial stances, but Bill had an unwavering commitment and deep passion for covering events that were important to his readers. And those who knew Bill understood he also had that same passion for his family, friends and his community. I will miss him greatly."
United States District Judge Donovan W. Frank of the United States District Court, District of Minnesota, said of Hanna, "Where do I start? Bill Hanna was an editor's editor and a reporter's reporter! When I was a new state judge in Virginia in the mid-1980s, Bill had started at the Mesabi Daily News. We got to know each other well because of his coverage along with other reporters from the Mesabi Daily News, of cases and issues in the courts and the Iron Range community. In my years as a lawyer and a judge, Bill Hanna would be at the top of my list for being a professional, highly competent and fair-minded reporter and editor.
"I have left out the most important characteristic of Bill, however. He was very caring and compassionate about how he reported on justice issues in our communities. Because of Bill, trials, hearings and issues in our civil and criminal justice system were fairly and accurately covered, and the public was well-informed. If he had a question about a story being put together, he would call me and others and ask questions both on and off the record. That relationship of trust benefited everyone, especially the public and our justice system. In my opinion, Bill Hanna set an example for many individuals around him, especially new and young reporters and editors. He was a role model in so many ways. Bill truly cared about doing the right and fair thing when covering cases in the court, and really any issue he was following and reporting on. Many of us will be forever grateful to Bill. Because of our relationship, we stayed in contact with one another even after I went on the Federal Bench in 1998."
Frank added, "Thank you, Bill Hanna, for such fair and caring coverage of our justice system and for setting an example for new and young reporters and editors. You will be missed."
Former state Sen. Doug Johnson, who served in the Minnesota House of Representatives from 1971 to 1976 and in the Minnesota State Senate and from 1977 to 2002, and his wife Denesse of Lake Vermilion said this in an email: "Bill Hanna and his family became our very close friends through the years. Although we sometimes didn't agree politically, we always enjoyed the 'discussions.' We consider Bill and his family part of our family. We will always remember Bill for his hearty laugh and the love he had for his family." Hanna never quit calling Doug Johnson "senator" even though Johnson had retired in 2002. Denesse Johnson said, "They really respected each other and that never changed. Bill, although he was not raised here, shared Doug's passion for the Iron Range and jobs for the people that live here. He loved the people.
"Bill was never shy about expressing his opinion. That's just one trait that we loved about him and he could do it without the nastiness we see today. He will be missed. Bill was one of the good ones."
Comments also came from Matt Matasich, known from his letters to the editor as the "Nort' Side Republican," said, "One of the best things Larry Asbach (one-time MDN publisher) did for the Mesabi Daily News, City of Virginia and the rest of the Iron Range is hire Bill Hanna as editor."
Matasich said, "I will never forget the first time I met Bill — it was at a Virginia Public Utilities meeting some 35 years ago. Bill sat in the small audience of regulars, no one knew him; at the end of the meeting Chairman Eddie Cohn asked, 'Who are you?' Bill introduced himself to the cast of characters and that was the beginning of a great friendship.
"Bill put out a daily editorial opinion on issues ranging from local to national, he forced the reader to think what was happening. It was always funny when someone disagreed and said they would quit the paper, but never did.... Bill's editorials were valued from 14th Street Nort' to Summit Avenue.
"Ink ran through Bill's veins, from delivering the Tribune as a kid in Nordeast Minneapolis to pumping out those provocative and great editorials on 7th Avenue South. For more than a quarter century he was the recorder of news and history of the Iron Range....Bill will never be forgotten!"
Louie Russo, former Virginia mayor and councilor and a consultant to the Mesabi Daily News since the 1970s, said this: "To me, Bill was a close friend and confidant from the day I first met him the offices of the Mesabi Daily News. As editor of the MDN, he had an ear for all news, especially anything pertaining to the Range.
"Everyone knew Bill...politicians local as well as state and federal ones. Business people and people in general. He made himself available to anyone who had a story or an opinion pro or con to his own. The MDN was like home to him. Stop by the paper almost anytime, and he was immersed in writing a story or special report for the next day's or weekend issue. If you happened to drive by the paper at 9 or 10 in the evening, he was still there writing dedicated to his readers. A good man, friend to many....I will miss him dearly as will many.
Another former Virginia mayor, Carolyn Luoma Gentilini, said she had known Bill since she first entered Virginia politics in 1992. "At that time he gave me and the citizens of Virginia a very clear understanding of the need for civility and a whole new positive direction for the city," Gentilini said. "That is one of the main reasons I ran for City Council and then as Virginia's first female mayor in 1995. I was successful in large part because of the support of Bill Hanna along with that of Larry, Scott and Jeff Asbach of the Mesabi Daily News. During my 14-plus years in city government Bill and I did not always agree, but that is the beauty of a democracy. Bill Hanna, however, helped me pave the way for many other women to successfully enter City of Virginia politics. He was an exemplary good man."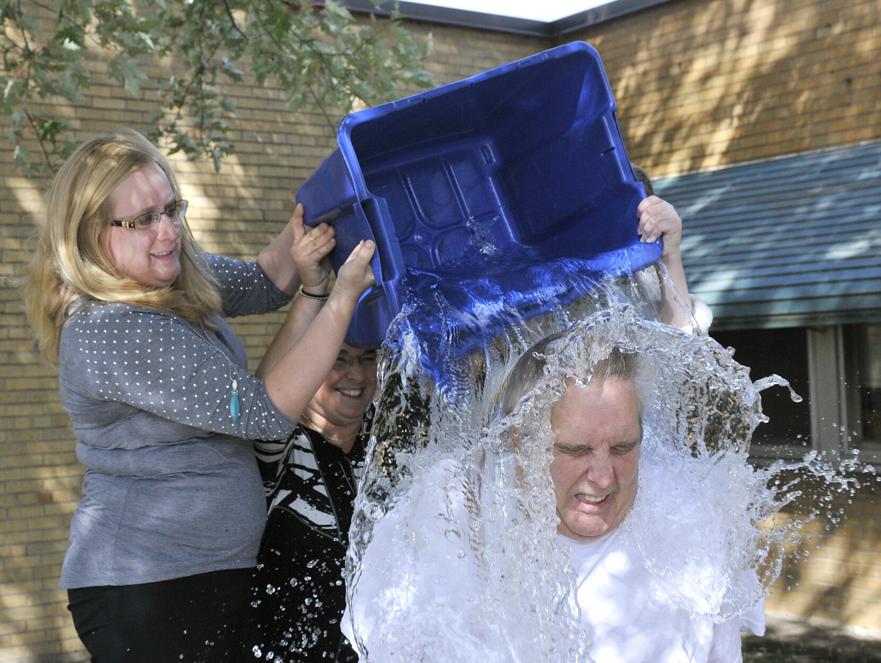 Scott Asbach, co-founder and chief operating officer of the Hometown Focus weekly newspaper and formerly associated with the Mesabi Daily News, said this: "Working with Bill and a wonderful editorial department in the early years at MDN brought back some fond memories of the accomplishments that were made to help tell a good story and educating our communities on the latest news that was happening. The editor's position can swing from happy stories to hard news that may not be so popular, a balance that sometimes can reflect personal opinion or a editor's note. I believe in his heart there was always a love of family, a love of friends and the community we served."
State legislators Sen. Tom Bakk, Senate District 3; Sen. David Tomassoni, District 6; and Rep. Dave Lislegard, DFL Aurora, commented on Hanna's impact on the Range.
From Bakk: "Bill was not born an Iron Ranger, but he sure acted like it. He was as loyal to the way of life here as anyone I have ever met.
"I think it was wonderful that for so many years he committed resources to have an on-the-ground reporter at the Capitol so people who read the paper knew what was going on in our state Capitol and what their elected representatives were working on. He understood the workings of state government mattered in our lives, and he was doing his civic duty to make sure others understood also," Bakk said. "He was a remarkable guy and I miss him dearly."
From Tomassoni: "Bill was a tireless journalist. He worked all hours of day and night. We didn't always agree but we got along. He was maybe the epitome of: 'Don't fight with people who buy ink by the barrel.' He was a strong advocate for the Iron Range and our way of life.
"He had some very difficult health problems, but his passion for journalism and our resource-based economy kept him going in face of difficult odds. My thoughts, prayers, and condolences are with his family and those close to him. Rest in peace, my friend."
From Lislegard: "Over his storied career, Bill Hanna not only kept the Iron Range informed, but he helped tell our region's story to the entire world. I'll never forget how a decade ago, he joined a visit to the Eagle Mine in Michigan, to see firsthand how emerging forms of mining can be done safely. His reporting let folks not only read about the opportunity, but to see it, feel it and experience it.
"Bill had a tenacious nose for hypocrisy and mistruths, and a willingness to hold those in positions of power accountable. Now more than ever, people deserve a free press in our country, and strong, independent news outlets, especially in rural areas. Bill made each of these a reality on the Iron Range. I will miss Bill deeply, and my prayers are with his family for comfort."
Keith Nelson, longtime St. Louis County 6th District commissioner, told the Tribune, "Bill Hanna's time at the Mesabi Daily News stands as a testament to how much he cared for the Iron Range, its communities, its people and our way of life." He was "a true professional in every sense of the word."
A fellow newspaperman and former MDN employee, Ron Haggstrom, editor of high school sports reporter at the Minneapolis Star Tribune, told about his first association with Hanna: "When Bill arrived at the Mesabi Daily News in the mid-1980s, he and I — sports editor at the time — had a vision to make the newspaper the best product possible. That meant locally as well as nationally. At first, we had to use our allotted space wisely." The newspaper grew in size as well as going from an afternoon to morning edition, and "waiting for West Coast pro and college sporting events as long as they finished prior to midnight, as well as chasing down local games that might not have been called in that night." Hanna was there every step of the way making last-minute changes on the news side if needed, Haggstrom said. "We didn't want any other newspaper beating us on any local content. It was a strain at times on every member of the staff, but it was also how we built such a strong reputation. We wanted to be better on a daily basis and keep improving."
With Hanna it was all business when it came to the newspaper, Haggstrom said. "There was plenty of laughter and joking around with the staff, but the public rarely saw it because it was always in the office due to the amount of time we spent there. Despite being a daily newspaper we did manage to organize celebrating one holiday, Christmas, together as an entire newsroom. We would have an early deadline on a Saturday near Christmas, and venture down to the Arrowhead Bar in Virginia. We handed out presents from a gag gift exchange while consuming adult beverages. The laughs, stories and memories that were shared on a yearly basis more than made up for the times we all might have not seen eye-to-eye on a story or deadline. It was a time of celebration and appreciation with our other 'family.'"
Haggstrom and Hanna, who was best man when Haggstrom and wife Lisa were married in Las Vegas, once had a disagreement over coverage of the outdoors and Haggstrom told his editor, "If you don't like what I'm doing, do it yourself." Hanna had said, "OK! I will." A week later Haggstrom was summoned to a meeting with Hanna, who said, "Hell, what was I thinking? All I did was create more work for myself. The outdoor page is for you to take care of again."
Shannon Gunderson, well-known Virginia musician and entertainer, called Hanna a dear friend and "overall great guy." In the 1980s and '90s she would be the hired musician for the Christmas parties of the Mesabi Daily News when Larry Asbach was publisher. "I remember one of these parties up on the 5th floor of the Coates Hotel, and I was trying to get everyone to join in the sing-a-long. Bill decided he would help out and took one of the sing-a-long- books…looked right at me and requested, 'Grandma Got Run Over by a Reindeer.' It brought the house down and everyone began singing with zest."
"Another time I was singing with my Divas group and Rosie Gams headed over to where the male servers were all standing (Bill among them)—and sang "Santa Baby ….don't know if I'd ever seen that color of red on Bill's face!"
In 2018 Gunderson hired Hanna to write the story of her parents, Margaret and John Whitehead, who had moved from Arizona to the Range. "I knew he would be phenomenal at the storytelling part of it. In Bill's own words, on the last page of the book, 'John and Margaret — A Loving Journey, he said, 'What began as a writing project quickly developed into a friendship during several interview conversations.' Throughout the entire book, he referred to my mother as Sweet Margaret.
"I felt we (Shannon and Dale Gunderson)were beyond blessed to have him in our home and their apartment just talking about the past, and being interviewed. My mother had the onset of Alzheimer's (she recently died), and you've never seen anyone so gentle as Bill was with her. She thought the world of him, just as we all did."
Others commenting on Hanna were Roger and Gail Johnston, who had both worked at the former MDN and now own the East Range Shopper. "Speaking from a newspaper IT (information technology) viewpoint, Roger Johnston said of Hanna: "He liked most of the old newspaper ways better than learning a new way to do things... He made it a steadfast rule to make sure that Associated Press got our current lineup of stories sent to them so our local info got out on the national wire."
Hanna loved the political aspect of the news, Roger Johnston said, and "Working in the newspaper business got into his blood early in his career and carried through to the end."
Gail Johnston, a 12-year MDN employee, said, "During that time I got to know Bill and found him to be a very caring, compassionate man. He enjoyed his children and grandchildren as well as loved it when my boys came to the paper to say hi. He will be missed by all, and I don't think his shoes as an editor can ever be filled — he was one of a kind."
And from Ely mayor Chuck Novak: "Monday (day of Hanna's death) was a sad day for me, my wife and many of us that knew Bill Hanna. He was a true journalist that wrote factual articles and kept his opinion on the editorial page.
Novak continued: "Over time we became friends and would share time on the 4th of July in Ely along with Angie and his daughter Nikki until she passed. Bill always enjoyed listening to Neil Diamond on those days. His contribution to the Mesabi Daily News was award-winning. Bill's articles were completed after all skepticism was cleared up. The editorial page was reserved for praise or criticism when Bill agreed or disagreed with current events. Bill Hanna will be sadly missed by me and my wife. Our thoughts and prayers are in our hearts for Angie and his family."