Gov. Tim Walz on Wednesday issued an executive order directing Minnesotans - all 5.6 million of them - to stay in their homes as much as possible in the coming weeks as the state makes efforts to curb the spread of COVID-19.
The order, which runs from 11:59 p.m. Friday until 5 p.m. April 10, is not a lockdown yet. Instead it aims to bolster previous calls to practice social distancing. Under the order, Minnesotans are still allowed to go outside while practicing social distancing. Take walks. Go hiking, running, biking, hunting and fishing. Get groceries and gas. Buy liquor. See a doctor. Care for family members, friends and pets.
"This is by all means not an exhaustive list," Walz said, adding that the goal is to reduce 80 percent of social interaction to "bend that curve."
People employed in "critical sectors" are not obligated to follow the order, including health care workers, emergency responders, law enforcement, shelters, child care facilities, food production, utilities, critical manufacturing, including mining, and the news media. After two weeks, he plans to loosen the order for three weeks and instead focus social distancing measures for older adults and people at risk of becoming infected with COVID-19.
Meanwhile, the governor's previously issued order to close dine-in services at bars, restaurants and other venues has been extended until 5 p.m. on May 1. Establishments can still serve delivery and take out. His separate order closing public K-12 schools across the state has been extended to May 4, with teachers beginning to implement distance learning plans.
As of Wednesday afternoon, the Minnesota Health Department reported 287 confirmed cases of COVID-19 after more than 11,000 tests in state and private labs. Twenty-six people were in the hospital with the coronavirus and 12 in intensive care. St. Louis County confirmed its third case of COVID-19, a respiratory illness caused by the coronavirus, and health officials have said the number of cases is at least 10 times as high as the number of testing-confirmed cases.
Reasons for the stay-at-home order
Last week, Gov. Gavin Newsom of California became the first governor to issue a stay-at-home order, telling 39.6 million Californians to stay in their homes, citing a model suggesting that more than 25 million people could be infected in the next eight weeks. Over the weekend, New York Gov. Andrew Cuomo - who has distanced himself from the language of a shelter-in-place order - issued a stay-at-home order for 19.5 million people.
Walz's order comes one day after Gov. Tony Evers of Wisconsin issued a stay-at-home order for 5.8 million residents. Evers cited models suggesting that, without restrictions on movement, 22,000 residents would test positive for COVID-19 by April 8 and between 440-1,500 would die from the disease, according to Wisconsin Public Radio. Thousands of Wisconsin residents would need hospitalization and state hospitals would not have enough beds and ICU beds to treat them.
As of Wednesday evening, at least 191 million people in 19 states and the Navajo Nation, 45 counties and 18 cities were being asked to stay home to curb the spread of the coronavirus throughout the U.S., according to data from The New York Times.
"Nineteen states, along with many cities, counties, and tribes, have now implemented stay-at-home orders that cover more than half of the nation's population," Minnesota Attorney General Keith Ellison said in a statement on Wednesday. "This is a clear sign that Governor Walz's order is a reasonable and necessary exercise of state power in an emergency and consistent with Minnesota's and every state's authority and obligation to protect lives and public safety.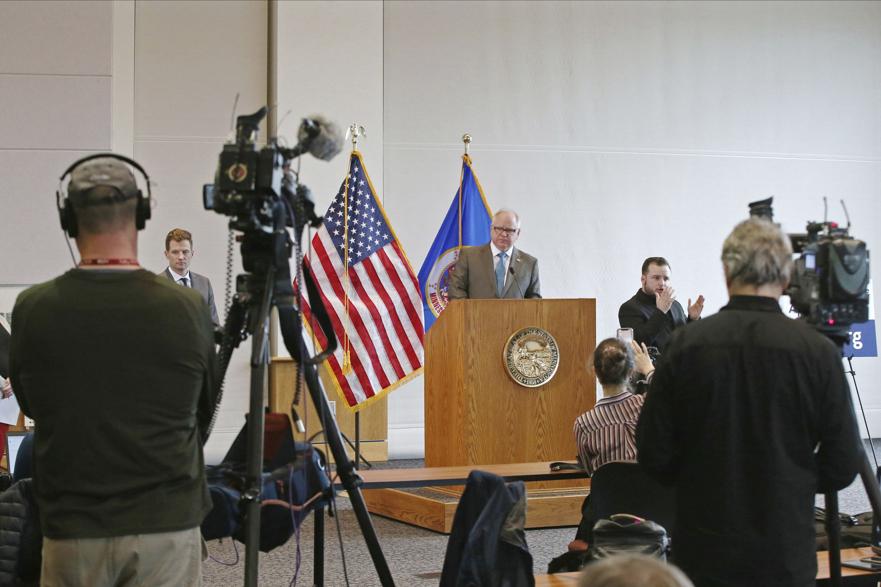 The governor, a former Command Sergeant Major in the Army National Guard, addressed the state on a livestream video since he was quarantined in his home after being exposed to someone with COVID-19.
He said a shelter-in-place order would not change the infection rates unless the state has vaccines or therapeutics. A shelter-in-place order is used for situations like natural disasters, such as floods and hurricanes, as well as shootings. The stay-at-home approach is considered more lenient by officials.
His decision to issue the two-week order is based on modeling from the Minnesota Department of Health and University of Minnesota predicting upwards of 74,000 residents could die from COVID-19 if nothing gets done. The modeling suggested that 15 percent of the population would require hospitalization and 5 percent needing ICU care for respiratory health.
"It's too late to flatten the curve as we talked about," Walz said, adding that testing has been too slow. The goal moving forward is to slow the infection rate and buy time and build more ICU beds for the second wave of COVID-19.
Considering the results of doing nothing, the state's Scenario No. 1 of the modeling suggests that no reduction in person-to-person contact would result in COVID-19 infecting enough people to reach the state's ICU capacity in about six weeks and reaching peak epidemic in nine weeks.
Regarding Scenario No. 2 of significant mitigation, the state's modeling suggests that 80 percent reduction in person-to-person contact followed by physical distancing would result in COVID-19 infecting people to reach the state's ICU capacity in 11 weeks and reaching peak epidemic in 14 weeks.
The governor noted that people have reduced contact about 50 percent in Minnesota. "You have bought us valuable time," he said.
Walz said the stay-at-home order will slow the spread of the coronavirus as the state prepares to build hospital capacity, increase access to ventilators, increase testing, plan for how to care for vulnerable populations and assess public health data to determine which mitigation plans are best. He said that spreading out infections gives the state time to figure out how to increase the number of ICU beds from 235 today to 1,000. He said the modeling considered demographics and population health data in addition to international scientific evidence on COVID-19, but it remains uncertain on several key factors and the state will improve moedling in the weeks ahead.
"So what our objective is now is to move the infection rate out, slow it down, and buy us time," Walz said. "The place we cannot go to is when someone cannot get that ICU care."
"Public health and health care workers around the state are working incredibly hard to protect Minnesotans from this outbreak, and we need all Minnesotans to do their part to slow the spread," Minnesota Department of Health Commissioner Jan Malcolm said in a statement. "These new measures will buy us much-needed time to secure additional resources and line up additional protections for our most vulnerable Minnesotans."
Walz asked that people voluntarily comply with the stay-at-home order. Law enforcement is not expected to strictly enforce the order, which says that anyone violating it is guilty of a misdemeanor and if convicted could get hit with a $1,000 fine or imprisonment for 90 days. "Nothing in this executive order is intended to encourage or allow law enforcement to transgress individual constitutional rights," according to the order. Walz later told the media that the order focuses on education and not enforcement. "It is not our desire to write someone a ticket, it's our desire to protect the public's health," according to The Star Tribune.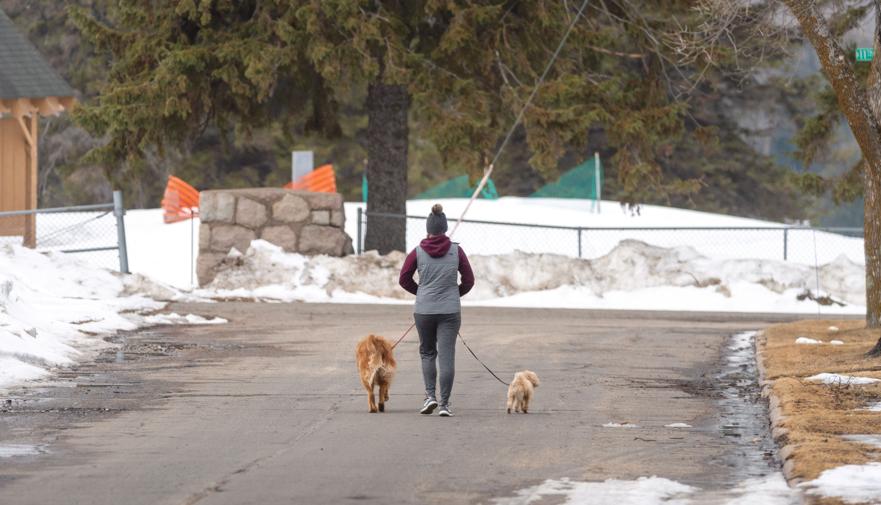 What happens to the economy during a stay-at-home order
Earlier this week, President Donald J. Trump said he "would love to have the country opened up and just raring to go by Easter" on April 12.
Democratic and Republican governors and public health experts from across the country pushed back against Trump and have held firm to their ordering to practice social distancing. "There is no doubt that this is going to take some time," Walz said on Wednesday. "It's going to be well beyond Easter, and I don't think it does us any good to pretend that it's not."
After Walz's announcement, the Minnesota Medical Association and more than a dozen state-based medical speciality societies backed the stay-at-home order. "This order gives Minnesota's health care system the strongest possible chance to adequately prepare for the predicted impact of this virus," said MMA President Keith Stelter, in a statement.
Republican State Senate Majority Leader Paul Gazelka expressed dismay with the new order. "I share the governor's concerns about the safety and well-being of all Minnesotans," he wrote on Twitter after the news conference. "I also have grave concerns about his statewide 'Stay-at-Home' order, and the consequences for families when their jobs and businesses that provide their livelihood are lost."
Data from the Minnesota Department of Employment and Economic Development shows that 78 percent of jobs statewide are in critical industries as defined in the order. About 28 percent of workers will be temporarily jobless during the two-week period, with roughly 59 percent of those people able to get some kind of paid leave. As of Wednesday afternoon, at least 164,786 people have filed for unemployment insurance in the state.
Minnesota Chamber of Commerce President Doug Loon also weighed in on the matter. "Minnesotans' health and safety are paramount concerns for all of us," he said in a statement. "We have heard from countless Chamber members anticipating the impact of staying at home, and we understand that balance is essential in how government responds to safeguard public health and protect the economy for the long-term." He added, ""We appreciate Governor Walz's leadership and share his goal to limit the spread of the COVID-19 virus in Minnesota, and to keep the private sector in position to return to full productivity and full employment as soon as possible."
Senate DFL Leader Susan Kent responded more favorably to the order. "There is significant, reliable data that concludes staying home makes a tremendous difference in mitigating the spread of COVID-19 and as a result saving lives." She added, "Mitigation will allow our health care systems and the people who care for the sick to continue to do their live-saving work. The decision by the Governor to order a Stay at Home order for Minnesotans is the right one."
Greta Kaul of MinnPost and Leah Ryan of the Mesabi Daily News contributed reporting on this story.