Coronavirus patients increasingly filled intensive care beds, record deaths were reported across Minnesota and Gov. Tim Walz announced new COVID-19 restrictions on several businesses Wednesday night.
The governor curtailed indoor dining at bars and restaurants, closed gyms, fitness centers, movie theaters, bowling alleys, museums and arcades, put a hold on weddings and post-funeral gatherings and paused youth sports for four weeks. Bars and restaurants will be able to offer takeout services during the upcoming four-week period, which begins 11:59 p.m. Friday.
All organized youth sports will be paused for the four-week duration, while fans and families will not be allowed at Minnesota Vikings games.
In a call with reporters Tuesday, the governor said the restrictions are aimed at easing the burden placed on hospitals from the current surge in COVID-19 cases that has vaulted Minnesota into the top 10 for new cases per capita in the U.S. It was 21st a week ago. The fallout of the dramatic increase has reduced ICU capacity to around 15 percent and caused staffing shortages at hospitals statewide.
"We need to take a pause," Walz said in an address Wednesday night. "Just to be clear, no one thinks this is easy. No one thinks this is fair. The virus isn't fair."
Minnesota-based business groups responded Wednesday and said very little state or federal aid will be available during this round of government shutdowns and that bars, restaurants and others made sizable investment to protect staff and customers to stay open.
Minnesota Department of Health officials reported 5,102 new cases of the virus Wednesday and a record-high 67 deaths, including 185 cases and one fatality in St. Louis County, which has accumulated more than 6,100 cases and 85 deaths during the pandemic.
Intensive care remains a major concern statewide with 1,153 of the 1,440 beds currently in use. Walz said Tuesday that the state can add about 400 beds in a 72-hour period if necessary.
Providers in northeastern Minnesota have increasingly sounded the alarm on capacity and staffing shortages as the pandemic rages throughout the state, and there is little flexibility to move patients around.
As of Wednesday, 99 people were hospitalized in the county, where 38 percent of the 327 total hospitalizations and 18 percent of ICU admissions have occurred in November. Currently, almost half (47) of the 95 ICU beds in the Duluth and Iron Range region are full of COVID-19 patients, according to a report from the Northeast Healthcare Coalition to St. Louis County on Wednesday morning.
In broader northeastern Minnesota, only seven of the 102 total ICU beds were available Wednesday, according to MDH, with one-third filled by COVID-19 patients. Though the number fluctuates, it underscores the tight capacity hospitals are working under.
"You might not have the cases in Greater Minnesota, but you also don't have the ICU beds," Walz said Tuesday. "But the challenge now is staffing those beds, with the virus hitting providers hard."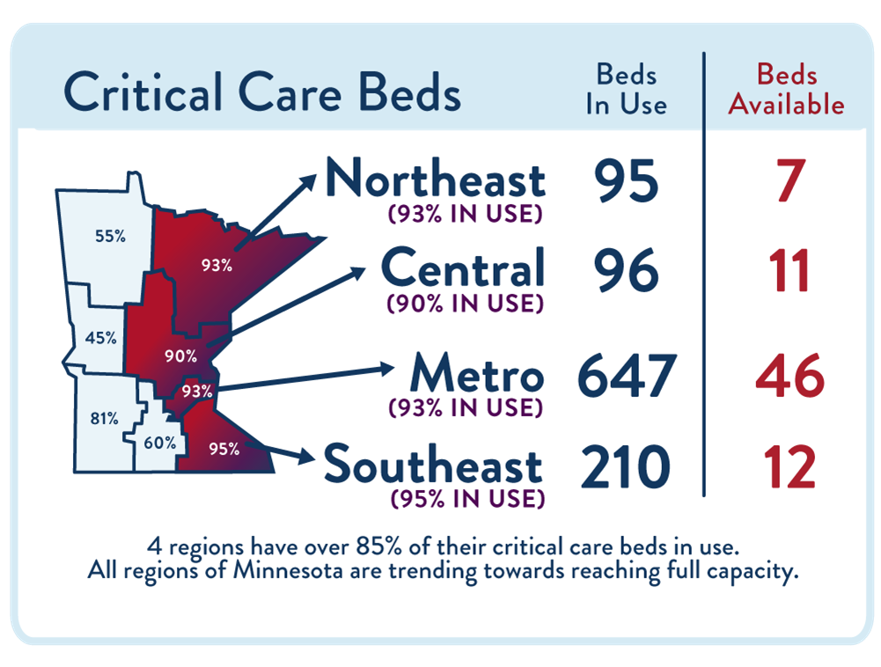 There were 1,423 new cases per 100,000 people in Minnesota over the past two weeks, putting Minnesota seventh in the country for new cases per capita, according to The Associated Press. One in every 119 people in Minnesota tested positive in the past week, according to data from Johns Hopkins University.
In St. Louis County, 1,189 cases were reported last week. Since Saturday, the county has 1,212 new COVID-19 patients and an infection rate of almost 12.6 percent. Citing those swelling figures, Rock Ridge Public Schools (Virginia, Eveleth-Gilbert) announced it would move all grade levels to distance learning beginning Nov. 23, changing direction from last week when it said high school students to distance learning and elementary students to a hybrid model.
Rock Ridge officials, in a letter to staff and families, said 30 staff members are in quarantine with eight additional staff and 13 students confirmed to have had COVID-19.
"COVID-19 is surging rapidly," wrote Superintendent Dr. Noel Schmidt. "The data continues heading in the wrong direction. The COVID-19 infection rates in the greater community are increasing so rapidly that it is impossible to offer school to students on an everyday basis."
Schools are not part of Walz's new set of restrictions issued Wednesday, but he said widespread community transmission is making where a pause is necessary for sports, noting outbreaks among teams working into the school communities and impacting coaches and referees.
Walz has signaled for days that he would implement new restrictions targeting where the state is seeing cases increase the most and recently halted indoor service at bars and restaurants after 10 p.m.
When asked Tuesday about the organized sports pause and whether teams are seeing worse infection rates than other activities, the governor said he's listening to the urging of health experts and what governors from other states are considering.
"I get this probably better than anyone who has served in this job," said Walz, a former football coach and teacher. "Every single industry says it's not coming from them. The trajectory of this is simply unsustainable. The idea that we can go on like this simply isn't sustained by the facts."