ST. LOUIS COUNTY — County and state officials confirmed the first presumptive case of COVID-19 in St. Louis County on Saturday. At the same time statewide cases rose to 137 and Minnesota reported its first virus-related death.
St. Louis County officials said the case is associated with a woman in her late 60s who is currently recovering in isolation at home. Her infection is linked to domestic travel, and not the result of community transmission.
"We have been acting on the assumption that we have COVID-19 and that it hasn't been identified," said Amy Westbrook, division director for St. Louis County Public Health and Human Services on their preparations for the coronavirus in a livestreamed news conference Saturday.
Officials did not identify whether the case was located in the northern or southern portion of the county, citing patient privacy. St. Louis County covers 6,860 miles of Minnesota and is home to more than 200,000 people encompassing Duluth and the Iron Range region.
A majority of COVID-19 cases in Minnesota are centralized in the Twin Cities area, with 52 in Hennepin County and 17 in Ramsey County. But in recent days the coronavirus has appeared north of the metro in Clay, Chisago and now St. Louis counties. Before Saturday, the closest confirmed case was in Douglas County, Wis.
Westbrook said regardless of where the case is, all county residents should take the necessary precautions while health officials continue to prepare, plan and respond.
"We know St. Louis County is a large county and we recognize the curiosity," she said. "In reality, recommendations remain the same."
A county spokesperson said the woman was tested for COVID-19, a respiratory illness caused by the coronavirus, on March 17 before additional restrictions on testing were put in place. County officials were notified by the Minnesota Health Department toward the end of business Friday evening.
"I want to stress that this is not an acquired community transmission," Westbrook said. "This is an individual who is in her late 60s who contracted the virus through domestic travel not community spread. She has no underlying health conditions. And good news, she is recovering from home."
Westbrook added, "As a public health system, we are monitoring her health status as well as her close contacts. She is isolating at home and her close contacts are also quarantined at home."
Dr. Nicholas Van Deelen, the chief medical officer at St. Luke's in Duluth, said county and health care officials "knew this was coming."
"We're not prosaically surprised by it and were prepared to manage it," he said.
Van Deelen said the Duluth-based hospitals still have a restriction on testing, which is limited to hospitalizations, health care workers and first responders and those in congregate living situations like group homes and nursing homes.
He added that hospitals have the necessary kits and swabs, but the three testing labs in Minnesota have limited reagents to perform the tests, creating a two to five day backlog. In a press briefing Friday, Minnesota Gov. Tim Walz said the lack of reagents was conveyed to President Donald J. Trump during a conference call with the nation's 50 governors that same day.
"Our business has dried up during the time being," Van Deelen said, referencing hospitals canceling non-elective procedures. "We know that in a couple weeks there is the potential that we may be busier than we've ever been."
In Minnesota, health officials confirmed the state's first coronavirus-related death in Ramsey County on Saturday. Statewide cases rose to 137 on Saturday from a total of 4,090 tests, that's up 23 from Friday's report of 115 from 3,856 tests.
Kris Ehresmann, the state's infectious disease director, said MDH is able to report the number of positives from private labs performing tests, but not the number of negatives, noting 91 of the positives were found at state labs.
"There's a lot of COVID-19 circulating in Minnesota," she told reporters during a press briefing Saturday.
Of the new cases reported, the range of patients now stretches from ages 10-94 with six people hospitalized and four in intensive care. The 10-year-old was being home-schooled, health officials said.
"We're seeing a shift to more severe disease in our hospitals," said Health Commissioner Jan Malcolm on Saturday, noting the MDH public hotline received around 1,900 calls on Friday.
The state's first death occurred Thursday, March 19. The person was in their 80s, recently tested positive for COVID-19 and was the contact of an earlier confirmed case. Ehresmann said the resident also had underlying health conditions along with the risk factor of age.
"This strikes closer to home and closer to heart," Malcolm said in the press briefing. "It just underscores how important it is to do all the work individually and collectively to protect each other and our families."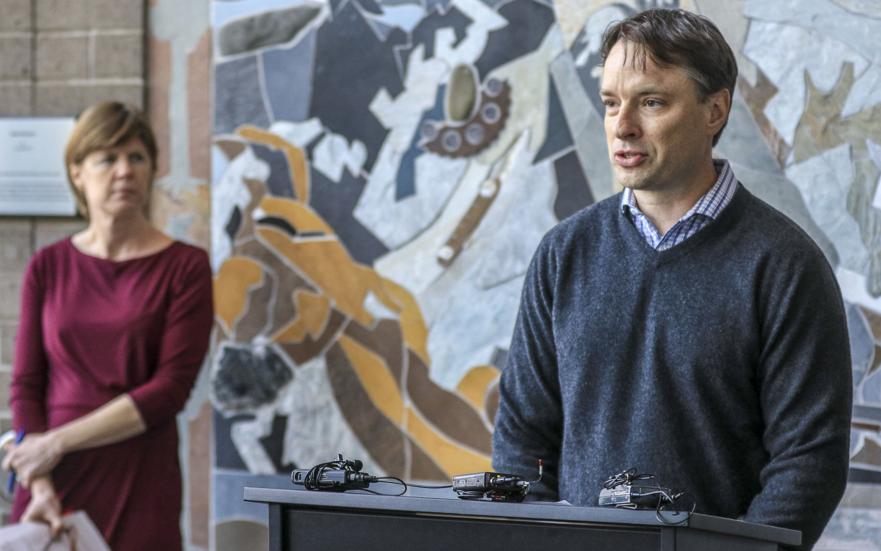 In a statement, Walz said he and wife Gwen "extend our deepest sympathies to the loved ones during this time of loss.
In St. Louis, anyone with clinical questions about the COVID-19, such as identifying symptoms or whether testing is needed, can call Essentia Health at 1-833-494-0836 or St. Luke's at 218-249-4200.
Non-clinical questions, such as preventative steps to take or anything travel-related, can be directed to the St. Louis County Public Health information line at 218-625-3600 or the Minnesota Department of Health at 651-201-3920.
State and county officials are urging residents to practice good hygiene and follow Center for Disease Control and MDH guidelines including washing your hands, covering coughs, staying home while sick and practicing social distancing, including being 6 feet apart from other people.
The state has enacted a number of temporary measures to "flatten the curve" of the coronavirus spread, including closing schools and other businesses, and barring dine-in traffic at bars and restaurants.
Walz is weighing an extreme measure of social distancing known as "shelter in place," but said Friday he didn't think it was necessary yet.
Eric Killelea contributed reporting to this article.