EVELETH — Hours after bar, restaurant and salon owners from throughout the Iron Range met Tuesday to discuss the impacts of COVID-19 on their businesses, the Eveleth City Council said it would not enforce executive orders blocking those businesses from opening.
Councilors unanimously passed a resolution declaring Eveleth a "Constitutional and Business Friendly Community" and said city resources won't be used to force businesses to comply with Gov. Tim Walz's stay-safe order that went into effect Monday, which allows retailers to open at limited capacity, but keeps bars and restaurants closed to dine-in services.
Walz is expected to announce a plan Wednesday that will allow those businesses to reopen under certain guidelines, but the Eveleth resolution approved Tuesday means the city and its police department would effectively step aside and let the city's businesses operate as they feel.
"This resolution is a message to the residents on how we are representing them," said Eveleth Mayor Bob Vlaisavljevich following the meeting Tuesday night. "I don't think there was a level playing field. There was a communication gap and no one was ready for this. We are protecting the rights of the citizens in this community."
The resolution began by quoting the 14th Amendment of the U.S. Constitution, which says that no state can take away citizens' rights without due process of law. The argument being made by the city is that the state forcing businesses to remain closed is an infringement on citizens' constitutional right to make a living.
Councilor Brian Lillis made the motion to approve the measure and it was seconded by Councilor Joe Koivunen.
It goes on to declare the city's intent is to oppose any executive order that challenges those rights and call on Walz to give emergency powers related to the COVID-19 pandemic back to local governments.
The resolution goes on to state that no city resources will be directed to enforce "any Executive Order or any other directive which infringes on the right of law-abiding citizens to keep their business open as per the Constitution, and that…[Eveleth] will use any legal means to protect the Constitutional rights of the citizens of Eveleth."
Tensions over the governor's executive orders have been rising in recent weeks.
A Stearns County bar and restaurant owner attempted to open Monday, but was quickly sued by Minnesota Attorney General Keith Ellison for attempting to violate the stay-safe order. Kris Schiffler, the owner of Shady's Hometown Tavern and Event Center, had his attempt to open blocked by a judge and later dropped his plans that afternoon.
In Eveleth, despite the council signing off on bypassing the governor's order, the city encouraged all citizens to abide by CDC and Minnesota Department of Health's guidelines for safety measures that include social distancing, staying home when not feeling well and wearing a mask in public.
"These places have to open," Koivunen said. "If it bothers you, stay home. No one is saying you have to go out."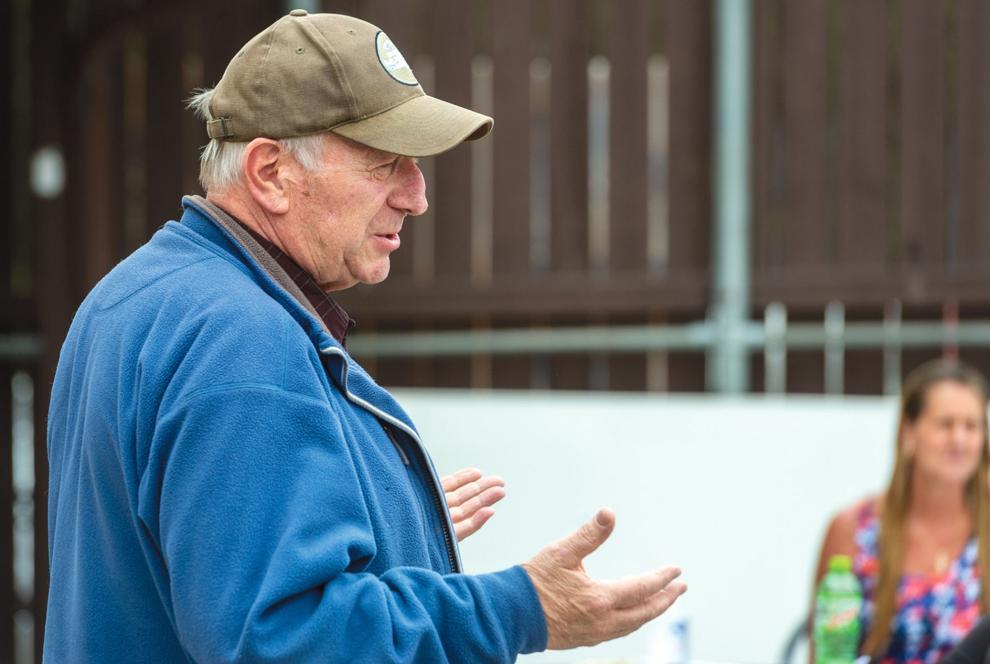 It was a refrain heard throughout the afternoon.
Outside Eggy's Red Garter, several dozen people met Tuesday afternoon to discuss the pandemic's impact on the area business community. Leading the meeting was Margie Koivunen, owner and operator of Margie's Roosevelt Bar. In attendance were area politicians including State Rep. Dave Lislegard, DFL-Aurora, Vlaisavljevich and Koivunen.
"We've had a hard few months and I hope today we can see the light at the end of the tunnel," said Margie Koivunen, speaking on behalf of her bar, Eggy's and Sue's Penalty Box, all located in Eveleth. "We are here to share ideas on how to reopen safely."
Representatives from various area industries spoke of their troubles and what message needed to be passed on to Walz.
"I am here to listen and learn," Lislegard said, "so that I can make sure your voice is heard."
Lislegard was appointed to a select committee of the Minnesota House to discuss businesses reopenings and the Iron Range at the state level. He spoke directly with Walz on Saturday about the issues facing the region.
"I am going to fight for northeastern Minnesota," he said. "My heart is here."
Heather Hill, owner and operator of Hair Force One in Eveleth, stated that her industry is focused on hygiene, is heavily regulated and maintains multiple licenses. "Sanitation is a huge part of our business."
Even with all of the regular regulations salons have, they are already preparing to purchase hand washing stations and personal protective equipment for staff and customers.
"You don't realize how important an industry is until you have to go without it," said Vlaisavljevich, quipping, "We are all getting a little scruffy."
Businesses will also face new costs as they reopen, a double hit to their pockets considering the money lost while out of operation and the expense of expired products. The question was raised by several owners: Who will pay for all of this?
Business owners have access to federal loan programs, but they asked where the state relief was. Many businesses are taking advantage of loan programs, but said they didn't do anything wrong or make a bad decision, and sent the message that they want grants that don't need to be paid back.
Following the council meeting later that night, Lillis discussed several programs the Economic Development Authority of Eveleth is developing. They currently offer a storefront loan that can also be used for building improvements and possibly some of the sanitation stations that will be required. There is also a bridge loan program.
"The new loan program may include grants," Lillis said, stating that he hoped to have something for the next council meeting, but cautioned it was not yet created.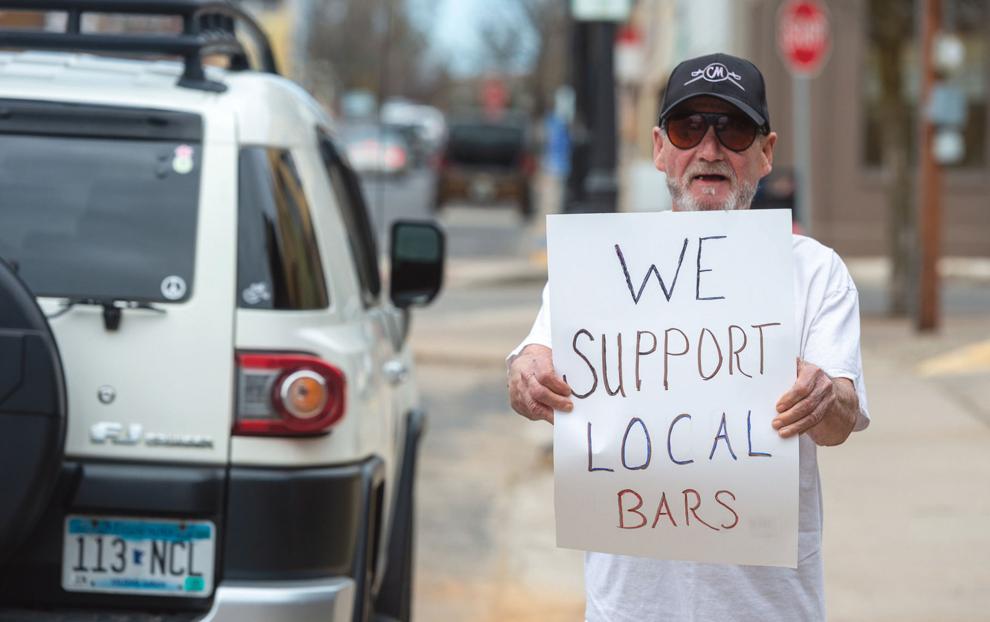 "Bar and restaurant businesses have been hit the hardest," said Alissa Horan, an owner of the Sawmill Saloon and Restaurant. "We are the first to close and the last to open and our staff doesn't want to come back."
Horan talked about how much money unemployed workers are bringing in with state unemployment benefits and the additional $600 weekly provided by the federal CARES act. Workers would rather collect this money, which is typically higher than their wages, than come back to work, she said.
Many eating establishments across Minnesota have been trying to stay alive with takeout and delivery service since Gov. Tim Walz ordered them to close in mid-March, putting tens of thousands of employees out of work. On Tuesday, Employment and Economic Development Commissioner Steve Grove provided a preview of what the new conditions might look like.
Grove tweeted that there would be "phased plans" for bars, restaurants and other "places of public accommodation" — a broad term the administration has used to includes theaters, sporting venues, museums and other attractions. Key public health factors important in reopening decisions include how close people are to each other, how long people are in proximity with each other, and whether people can effectively practice social distancing in that setting, Grove tweeted.
Walz last week announced that he would let his stay-at-home order expire Monday and replace it with a "Stay Safe MN" safety regimen, which allowed retailers to start reopening this week. He also directed his cabinet to come up with ways to safely reopen bars, restaurants and hair salons starting June 1.
Business leaders in Eveleth also discussed how different this pandemic is on the Iron Range, where there have been a limited number of confirmed cases, versus the hotspots around the metro areas and in counties home to food processing plants. They argue that business reopenings should be a regional decision, a message Lislegard said he would bring back to St. Paul.
"I never thought this would happen," said Margie Koivunen. "June 1st is the end of the road for me. I will be open on June 2."
The Minnesota Department of Heath on Tuesday reported 17 more deaths from COVID-19 and 665 new confirmed cases as the number of people hospitalized with the disease jumped. The new numbers raised the state's death toll to 748, while the confirmed case count rose to 17,029. It also reported that a one-day high of 545 patients were hospitalized with the disease as of Tuesday, an increase of 57, but the number of intensive care patients held steady at 229, matching a high set Monday.
"It's certainly notable. It is a big jump," Health Commissioner Jan Malcolm said at the department's daily briefing.
As frustration looms over the Iron Range, business owners are aware the 4th of July holiday is fast approaching. That weekend is an annual boom for the community's economy where bars and restaurants bring in their largest annual revenues, typically used to pay taxes and renew licenses.
Eveleth is particularly famous for enthusiastically celebrating the holiday, when crowds often fill the downtown area and local hotels for the weekend events
"We are planning to move along with the 4th of July festivities," said Vlaisavljevich during the earlier meeting. "It will be a personal decision if you participate."
The Associated Press contributed to this report.